I loved Issac Hayes. Who didn't I guess? He was totally innovative, his own man, one of the most classic soul songwriters in history and a MASSIVE influence on me. "Soul Man", "Hold On, I'm Comin'", "B-A-B-Y" not to mention 'Shaft" and "Bumpy's Lament"! First Black composer to ever win an Academy Award, busting it open for Black composers for all eternity. How much better does it get?
Those chains and wild pantsuits, a soul fashion icon of the highest proportion. A total individual following his own path. This photo of him holding the Bubbles' ceramic he owned, Mr. Issac Hayes #7, is about my favorite photo of my work ever taken. I loved how he autographed it 'To "Allee"', as if I was the one who wasn't real and Bubbles was who really mattered.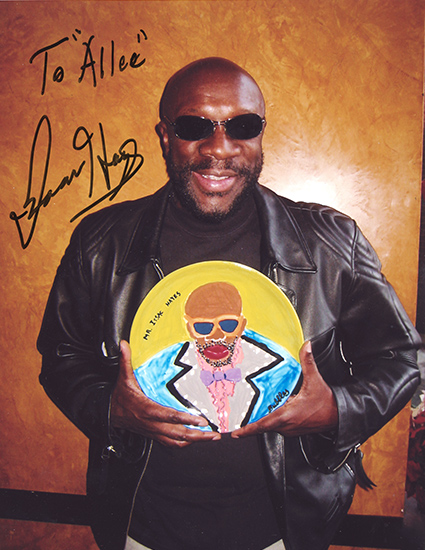 I finally got to meet Isaac Hayes when he came to the opening of The Color Purple, my musical that opened on Broadway Dec. 1, 2005. I stumbled over Stevie Wonder, Tina Turner, Sidney Poitier, Chris Rock, Oprah, you name it, to get to the one who really mattered to me.
Isaac Hayes was the kind of artist I adored, not content to do the same thing over and over again just writing songs, recording them, going out on the road and starting the exact same process all over again. That bores me. As far as I can tell Isaac Hayes followed his heart, stretching his limits and going places few if none had gone before and looking sharp all the while. A master at reinvention, he dug deep into his hot buttered soul and made music that soaked into the very fabric of humanity. He shall, of course, live forever. I'm only sorry I never got to share a meal with him on that plate.