Anyone who knows me knows that I invite change in my career like most people do with hairstyles. Perhaps because I haven't changed the latter since 1983 I'm now tweaking the former like crazy since I finally took to the stage last year to do my sold-out-standing-room-only series of live shows, a brief snippet of which you can see here.
The day before my haircut in 1983: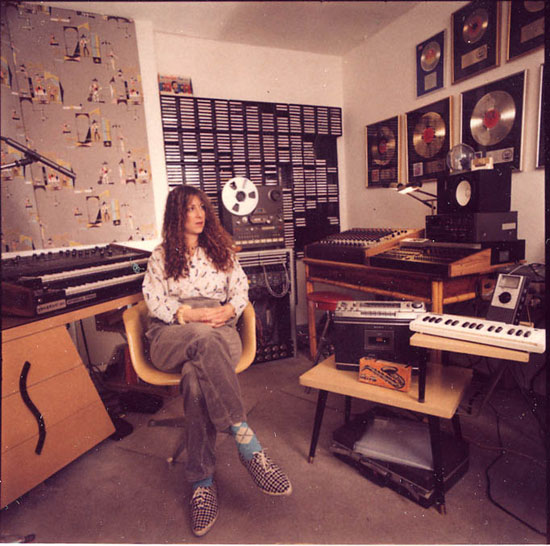 I'm now expanding the repertoire and this Friday night only, February 15th, will be performing live in a charity production of Eve Ensler's critically-acclaimed "The Vagina Monologues" at the Atwater Village Theatre in LA (3269 Casitas Ave., 90039) as part of Ensemble Studio Theatre LA's, "Winterfest".
The shows will be performed on February 14th, 15th & 16th at 8pm. Each night will feature a different cast of twenty actresses from TV, film, and theatre (list below), and will be directed by LA Talk Radio's Sheena Metal ("The Sheena Metal Experience"). Proceeds go to the anti-abuse charities V-DAY (http://www.vday.org) and PROTECT (http://www.protect.org). For more info on the shows, the charities and to get your tickets visit: http://www.vdayla.com .
Also, on March 9th I'll be hitting the stand up trail again at Eve Brandstein's Poetry in Motion/The Road Not Taken (tickets: www.EveBrandsteinPoetryInMotion.com) as well as performing an all-new pulsating St. Patty's Day routine at Beth Lapides' UnCabaret on March 17th (tickets: www.uncabaret.com).
So be it for vagina, poetry and/or shamrocks, I hope you come play with me!
THE 2013 V-DAY "Vagina Monologues" LA CAST:
Rosemary Alexander ("Sordid Lives, "Cold Case")
Zuri Alexander ("Fierce: Relations", "Supernatural: The Play")
Alison Arngrim ("Little House On The Prairie", "Confessions Of A Prairie Bitch")
Jill Bennett ("In Her Line Of Fire", "Dante's Cove")
Lisa Bishop ("Ensemble Studio Theatre LA")
Kim Chueh ("Without A Trace", "Strong Medicine")
Patty Cornell ("Faux Baby", "Bob Funk")
Kathleen Coyne ("Who's the Boss?", "Locked Up: A Mother's Rage")
Kristen Dalton ("The Dead Zone", "The Departed")
Anne DeSalvo ("Arthur", "My Favorite Year")
Tamika Katon-Donegal ("Boston Public", "Something Like A Business")
Bobbie Eakes ("The Bold And The Beautiful", "All My Children")
Kim Fitzgerald ("Leap Year", "Janeane From Des Moines")
Caitlin Gallogly ("The Turn Of The Screw", "Snow White")
Ilene Graff ("Mr. Belvedere", "Grease")
Jessica Graham ("2 Minutes Later", "And Then Came Lola")
Elizabeth Greer ("The Shield", "Cold Case")
Geri Jewell ("Deadwood", "The Facts Of Life")
Mary Kennedy ("ER", "Oh Mary Radio Show")
Jacqueline King ("Deal Or No Deal", "From Grace")
Emily Kosloski ("Helen Of Troy", "The New Normal")
Tracey A. Leigh ("Grey's Anatomy", "Criminal Minds")
Carol Locatell ("Mad Men", "The Family Stone")
Elizabeth Logun ("Birds Of Paradise", "Butter")
Meredith Scott Lynn ("Legally Blonde", "CSI")
Sandy Martin ("Napoleon Dynamite", "It's Always Sunny In Philadelphia")
Gates McFadden ("StarTrek: The Next Generation", "Franklin & Bash")
Sheena Metal ("LA Talk Radio", "97.1 The FM Talk Station")
Minae Noji ("General Hospital", "Memoirs of a Geisha")
Susan Olsen ("The Brady Bunch", "97.1 The FM Talk Station")
Amy Paffrath ("Jersey Shore", "E! News")
Angel Parker ("Lab Rats", "The Soul Man")
Lizzie Peet ("Cold Case", "ER")
Tracy Poust ("Ugly Betty", "Will & Grace")
Kim Rhodes ("The Suite Life of Zack and Cody", "Supernatural")
Jamie Rose ("Falcon Crest", "St. Elsewhere")
Heather Robinson ("Slice", "Doesn't Anyone Know What A Pancreas Is?")
Ingrid Rogers ("All My Children", "Cosby")
Jamie Sara ("September", "Bitesized")
Eve Sigall ("End Of Days", "iCarly")
Ilana Spector ("Ensemble Studio Theatre LA")
Charlotte Stewart ("Little House On The Prairie", "Twin Peaks")
Ashleigh Sumner ("The Event:, "And Then Came Lola")
Susie Tanner ("TheatreWorkers Project", "Lady Beth: The Steelworkers Play")
Barbara Tarbuck ("American Horror Story: Asylum", "General Hospital")
Ann Walker ("Sordid Lives", "Southern Baptist Sissies")
Dee Wallace ("E.T.", "Cujo")
Keliher Walsh ("Year Of The Rabbit","Let It Go Already")
Allee Willis ("Boogie Wonderland", "The Color Purple")
Debra Wilson ("MADtv", "Avatar")
Jacqueline Wright ("North Country", "Gilmore Girls")
Kim Yarbrough ("The Voice", "Conan")