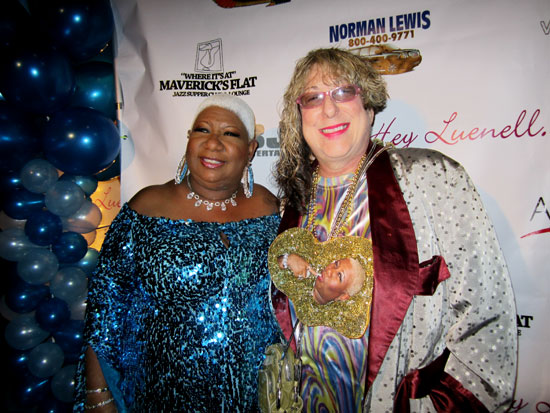 Anyone who doesn't know my friend Luenell, run to Wikipedia right now. If you ever even have caught a glimpse of her, maybe as the hooker in Borat…,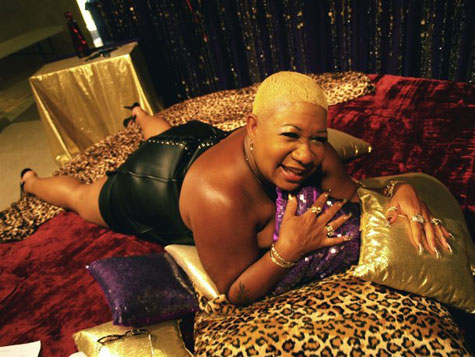 …or opening for Kat Williams…,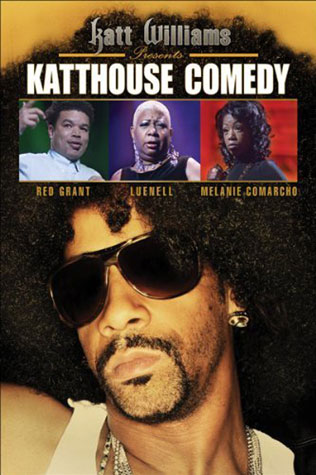 … or maybe in my backyard at one of my voluminous parties…,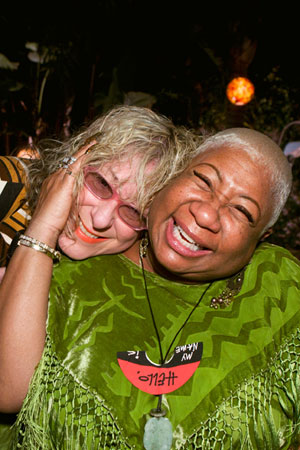 …you know Luenell's hysterical and don't take no shit. I know her to also be a kind and seriously loyal friend, the type that just rings your doorbell and is standing there with her half eaten cupcake-in-a-cup offering you the other half. I would've shot a photo of it when she arrived here a few weeks ago wearing her pjs but I sucked it down too fast. Which is too bad because it matched my shirt: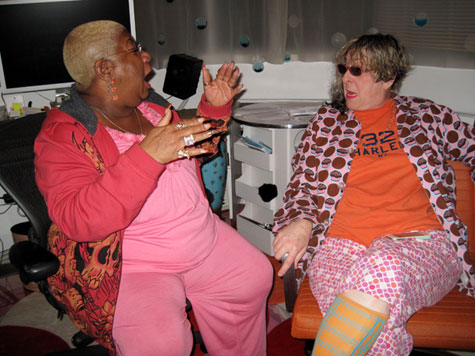 Last night Luenell threw herself a huge party. Maverick's Flat, the club on Crenshaw Blvd. where it was held, is as legendary as the star herself, ground zero in the 1960's for iconic musicians, comedians and socialites to party together in a Playboy Club-type atmosphere. As an example of the excellent decor, here's a door that still remains: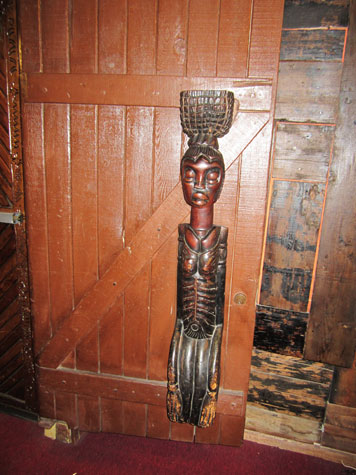 The funky and psychedelic design of the club even inspired the album art for one of my favorite LPs, the Temptations' "Psychedelic Shack."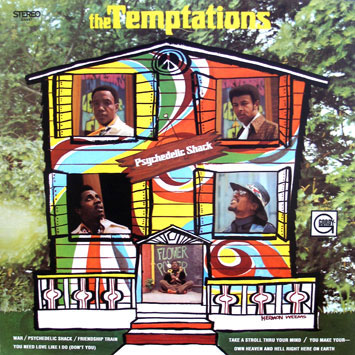 Here's an example of who used to perform at Maverick's Flat: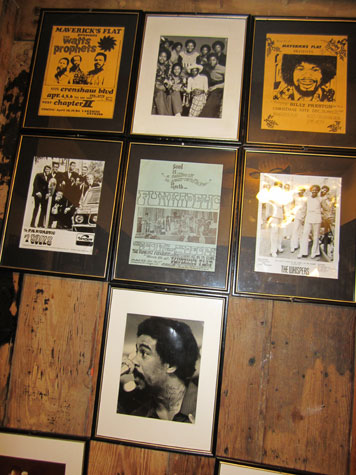 But tonight it was all Luenell/all the time…: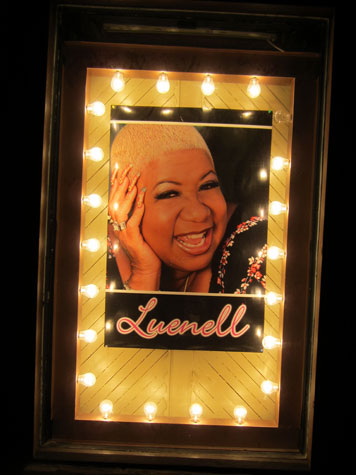 … as we gathered "yet again to celebrate her 25th birthday":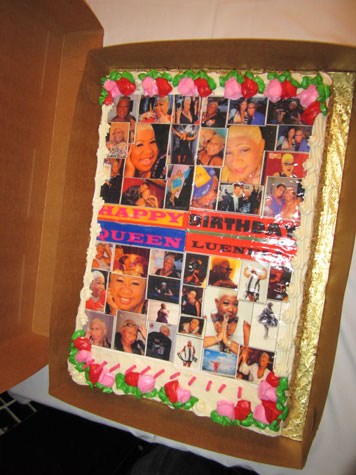 I arrived the same time as Luenell. Shitty photo of me but you can see the girth of the Paparazzi.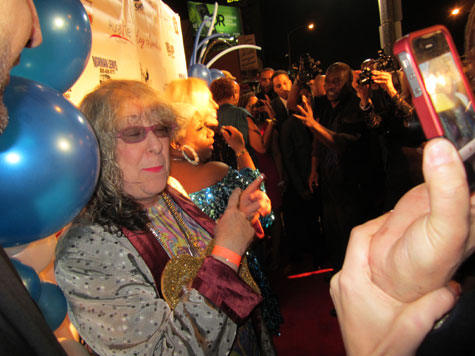 Lots of great friends in the house.  Here I am with Abraham Mc Donald, who I met at Jenifer Lewis' one Christmas and who won the Oprah show's National Singing Competition right after that.: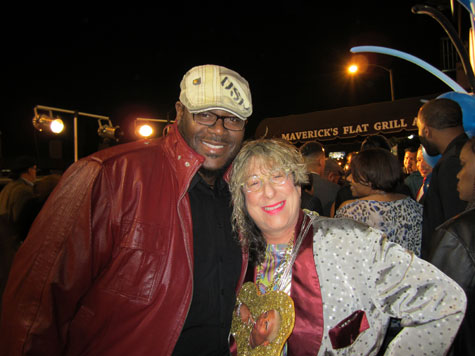 Then MAxi B, from The Mary Jane Girls…: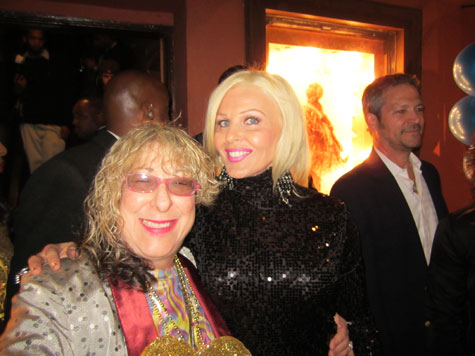 …and Norwood Young…: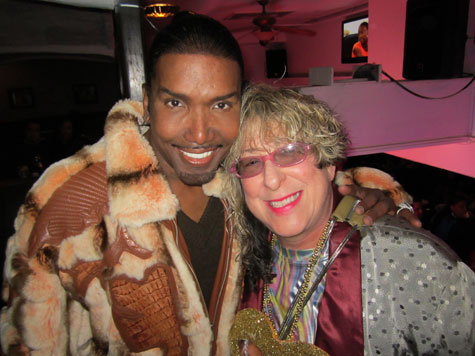 …and William Papa Lee Handford Jr…: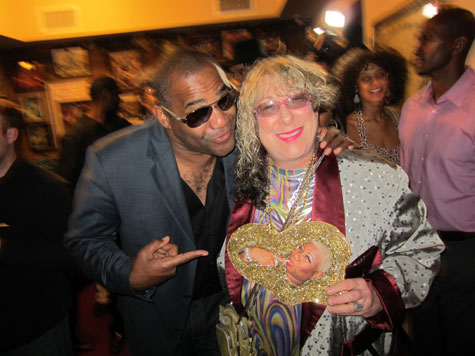 I hope you can see the ultra expensive bling I wore. Here's a slightly better shot of it on the red carpet: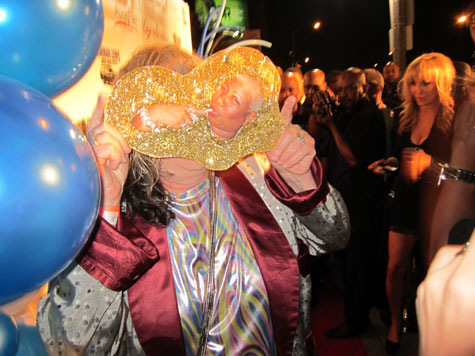 Apparently my lips had a wonderful time giving an interview to WorldVideo.tv. Look at them leaping  off my face!!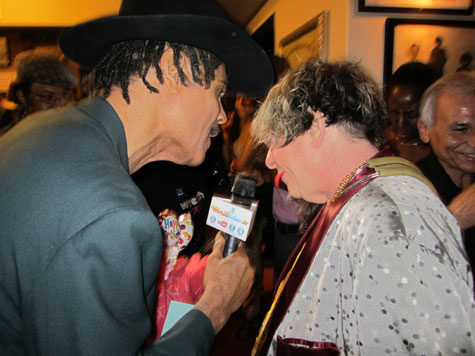 It got soooo crowded that we retreated to the roof, where we shared some smokin' fried chicken and general frivolity. Here are me, Snappy P., Constance Tillotson and Michael Ruvo: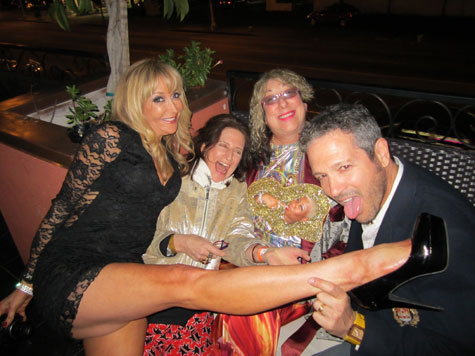 And then my camera battery died.  I NEVER travel with just one, but seeing as I lost two cameras and four batteries this week alone, I was traveling solo with only one new cheap camera and the battery it was born with. Oh well….. Happy birthday, Luenell, and to 150 more magnificent 25th's!!