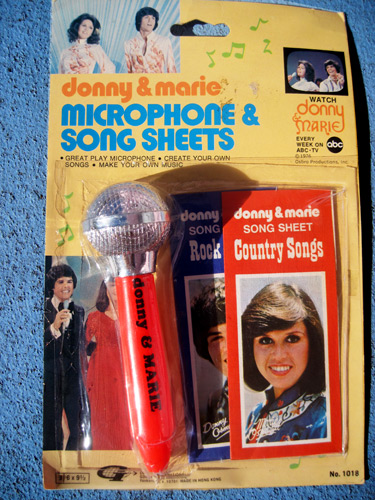 Donny Osmond may have won Dancing With The Stars and a whole lotta money for his favorite charity but a whole lotta money was the last thing that was spent on manufacturing this toy microphone and song sheets set at the height of the Donny & Marie Show frenzy in 1976. Despite the claim on the package that you too can "CREATE YOUR OWN SONGS • MAKE YOUE OWN MUSIC" the non-working plastic mic attaches to nothing and won't get you much farther than singing into a candle or a shoe or anything else remotely microphone shaped.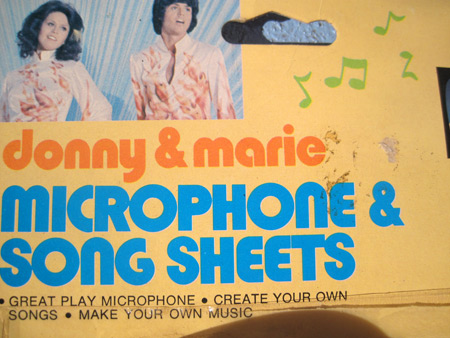 The "song sheets" are literally blank sheets of paper that you write the notes to your own song on should you have enough songwriting chops to pull one out of the blue and be blessed with the knowledge of how to notate music, the latter of which I don't even know how to do.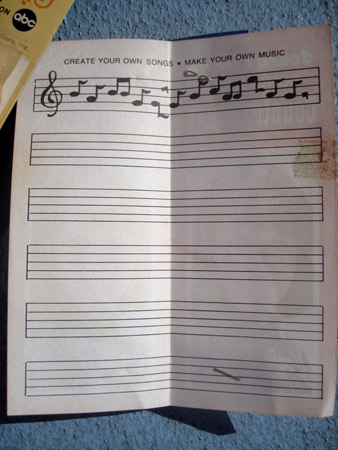 To make matters worse and even lower-rent, the song sheets are stapled together at the top and the bottom and it's next to impossible without surgical instruments to remove the staples without ripping the one-ply-thick-thinner-than-toilet-paper paper it's printed on.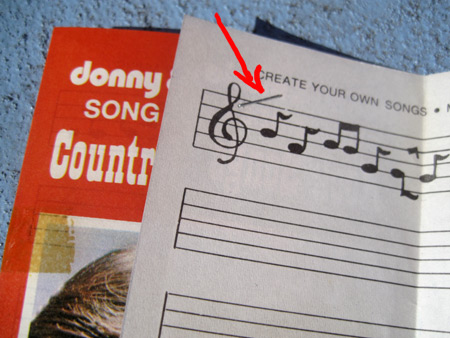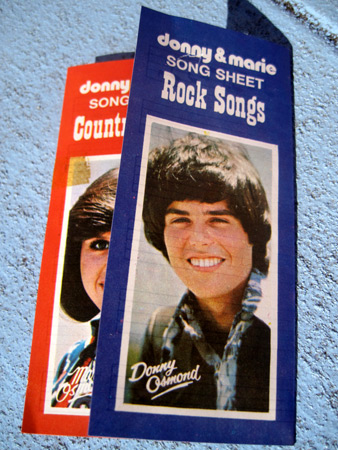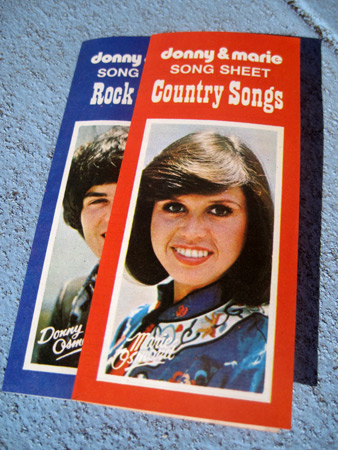 Made in Hong Kong during the heyday of the bro/sis acts' ABC variety show by the family's own Osbro Productions and distributed by Gordy International (how did Motown get into the act?) it also appears that Donnie got the shaft on the shaft of the microphone as Marie's name got bumped up to all caps and Donny's remains crushed into diminutive lower case letters.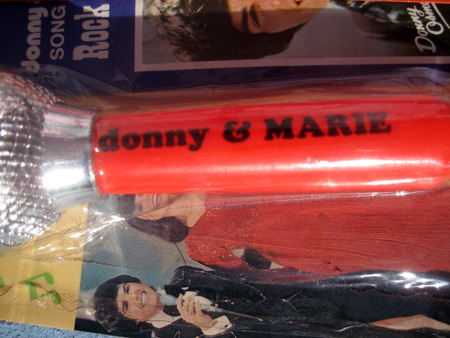 All around, this belongs in an express elevator up to the Penthouse of Kitsch because it is sooooo totally and completely cheaply made, meant to be dumped into bargain bins at all of the dollar discount stores that were just starting to get a smelly toehold on the American merchandising scene.