.
In case you haven't read it, the title of this post is in reference to the if-I-do-say-so-myself-despite-a-few-tiny-inaccuracies-great-and-rather-large-piece-on-me in last Sunday's Washington Post.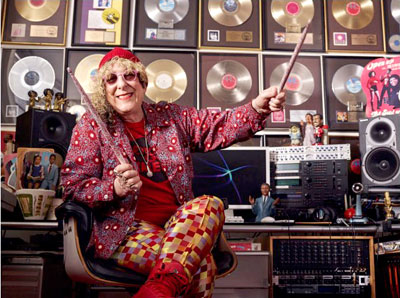 In current news, I will be taking to the stage in LA again for the first time in over a year, actually the first two times, as there are two impending opportunities for me to regale you with my most humiliating show business stories and watch the audience remember my lyrics better than I do as we sing-along to some of my greatest hits!
First, I will be performing my infamous poolside with Sammy Davis Jr., Elizabeth Taylor slab o' ribs story as well as a retelling of the single most ego-numbing, dignity-deprivation moment of my career, the Phoebe Snow/Paul Simon "I'm so f%#king hungry and yes, you're Still Crazy after all these hours" story at Beth Lapides' I'm With The Band (sorry, Pamela DesBarres who HAS been with the band!) evening at the Skirball Center, Friday night, June 5. It's rock & roll comedy told by very funny people like John Riggie (30 Rock, The Comeback), Greg Behrendt He's Just Not That Into You), the lovely Moon Zappa (Curb Your Enthusiasm, America the Beautiful) and, of course, ME, featuring stories about some of music's biggest legends and presented lounge-style with cocktails and snacks available for purchase. Tickets here.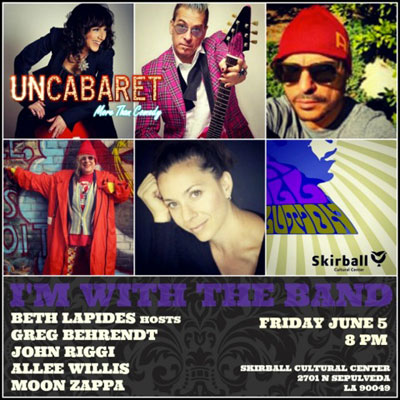 Then on Sunday night, July 12, it's big ol' party time when the illustrious Andrae and I + band hit the stage for a wild, so-affordable-it's-crazy fundraiser for my Detroit-inspired record, video and feature length film about human spirit, "The D"/ Allee Willis Loves Detroit"!! Featuring a sneak peek world premiere of the record and video with more people in history than have ever been the original artist on a record, joined by some of the biggest stars to ever emerge from the Motor City.  Also sing-alongs to some of some of my fattys like "September," "Boogie Wonderland," "Neutron Dance," and the Friends theme, as well as auctions from the legendary Allee Willis Museum Of Kitsch collection! Many more surprises at this outrageous multimedia live feast for the eyes, ears and soul!!  Tickets, thankfully going fast, are here.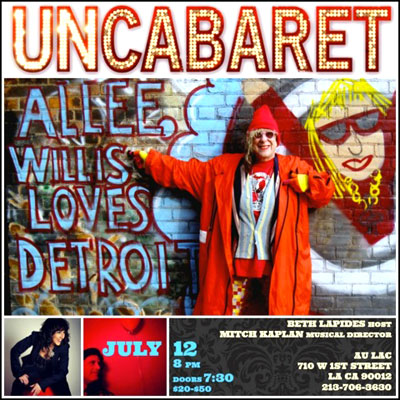 And last but far from least, we are making fairly stunning progress on "The D" record and video, both of which are in the area of 85/90% finished. We are constantly diverted from the filmmaking mission having to prepare things like a marketing deck and a movie trailer so we can all stop eating up to the green edges of our food and raise some real money to get this car on the road. But I must admit, despite the financial deprivation – PLEASE COME TO THE BENEFIT ON JULY 12 – we are all having the time of our lives working on something this creative and worthwhile. All we do is laugh, and all we do is feel better and better about what we're doing every time we look at the joy pouring out of Detroiters eyes, mouths and hearts as we pull everything together.
Exciting news on "The D" song front is that Detroit's own Maejor, an artist with hundreds of millions of YouTube views and the smoothest voice this Motor City side of Marvin Gaye, is the latest superstar to add his voice to the record.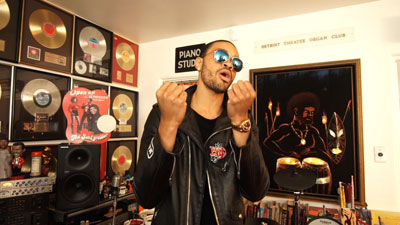 Plus recent interviews for Allee Willis Loves Detroit, the film, include the multi-seriesed Michael Patrick King, the shy and retiring Jenifer Lewis, the demure Sandra Bernhard, and Earth, Wind & Fire's stupendous Philip Bailey, among illustrious others.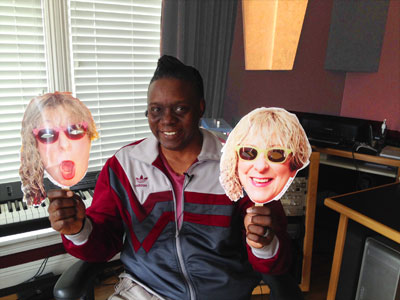 That's about it for now. Here's the link to my story in the Washington Post again:  "Most interesting woman you've never heard of" (so please get your ass to my show and help rectify the situation!)
Onward, Detroit! And remember to gimme some gas money on July 12 or pop it down here if you're in generous spirit and unable to attend.