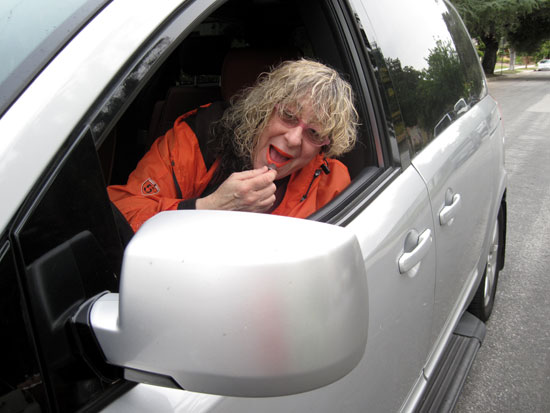 I'm pretty religious about celebrating one's birthday all day from the strike of midnight through the next 24. Years that I haven't observed this rule I've been miserable. If I'm stuck working I don't concentrate on the work anyway, too resentful that I didn't stick to what I had laid down. This year, my festivities are taking place a week late at my favorite place on earth, The Madonna Inn in San Luis Obispo, with the little group I spend each and every birthday with, some of whom joined me on my big night last Thursday at Bar Marmont.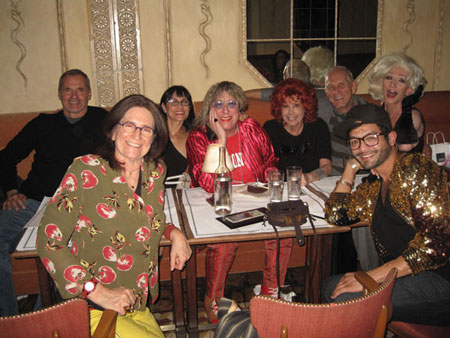 That was just the little hamburger teaser so the day itself, November 10, would not go un-celebrated. But Bar Marmont didn't happen until 9 PM. so there were many hours to fill with birthday escapedom building up to it. So I spent the day tooling through East LA and beyond photographing my favorite vintage and kitsch spots, eating tacos and picking up treasures at every 98, 99 and dollar store I could find. On my way, I passed many signs like this: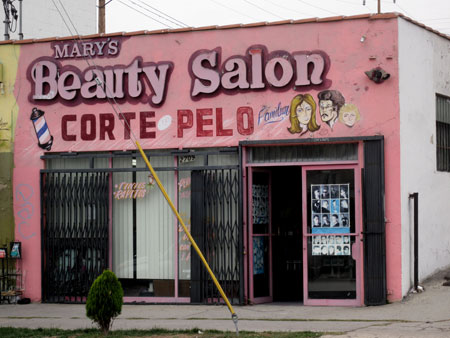 I love handpainted beauty salon signs. Especially because of the portraits, featuring 'Familiar' hairstyles of decades gone by, evidently still sculpted inside, and very macho looking men.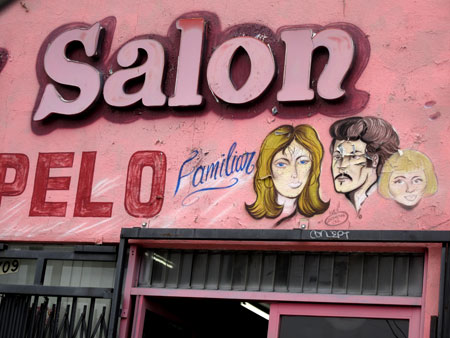 I love how massive the male's head is on this next sign compared to the diminutive female's that's sporting the illegitimate hairstyle child of Jane Fonda circa 1967 and me for the last 2 1/2 decades: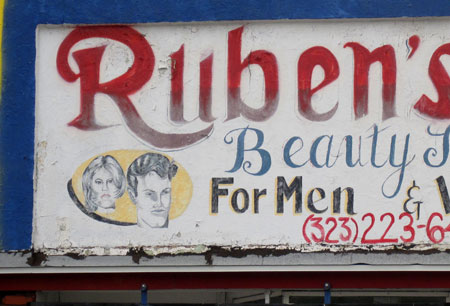 Even more than bad art on beauty salon signs I love when a nice Grecian pillar holds up nothing: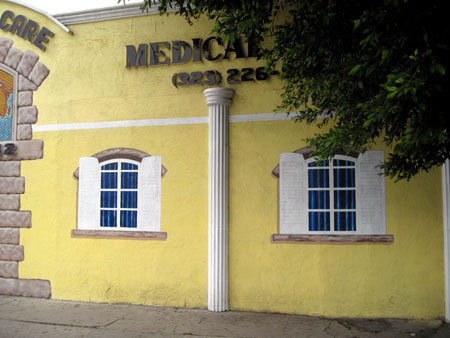 Especially if the windows around it lead to nothing but brick.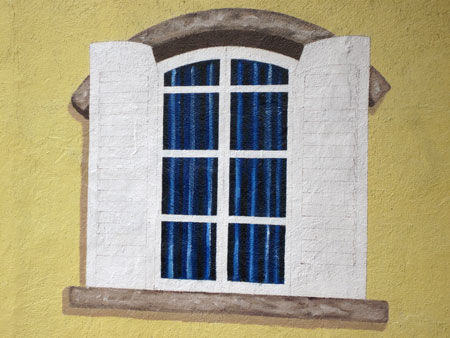 Windows aren't the only thing I like painted on walls: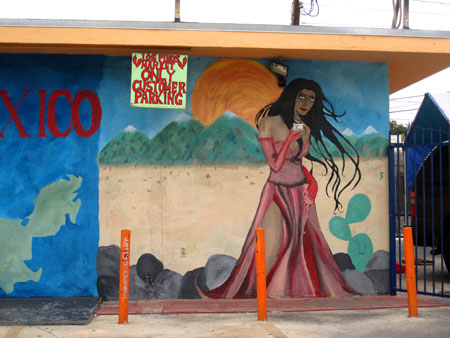 A nice ghoulish girl in the middle of a desert dressed in trashy lingerie sucking on a can of beer is nice too. And I always love a nice family painted on windows. This one kills me because look how perfectly the actual table outside fits in with the grill that silicon-injected mama is cooking on for her family in the mural: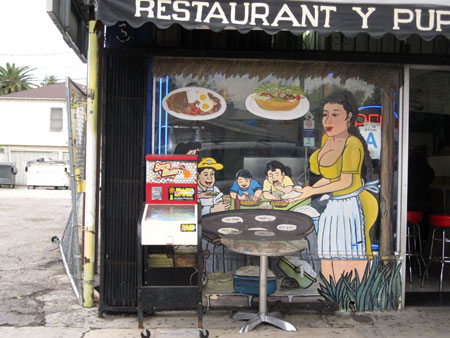 I think you need a closer look at silicon-injected mama. Of course, her upper torso hogs all the attention but can we discuss the size of her thighs and how, if her entire body were painted, she would be 14 feet tall?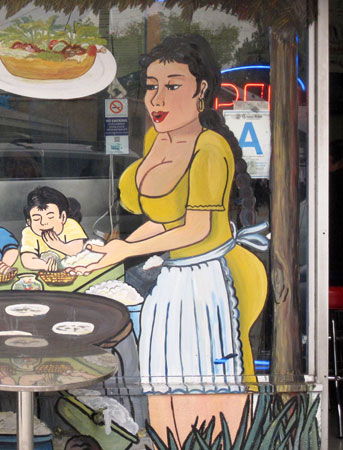 It's always a nice touch when something that should be one word is split up into two. Especially if one of the syllables is 'high' and it's painted to preserve symmetry so that one enters the mar-ket.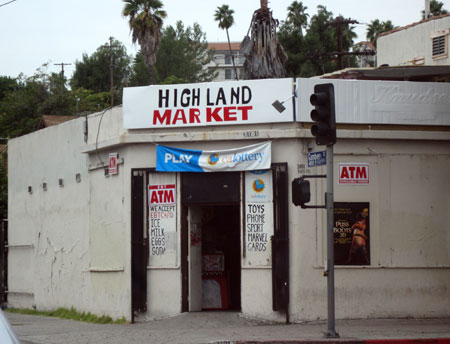 I love when letters are missing from signs: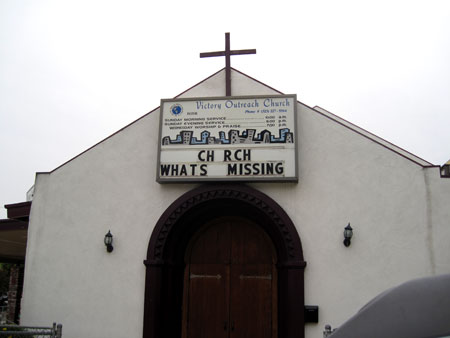 One doesn't have to look far to discover the mystery here. What's missing from church is a 'u'.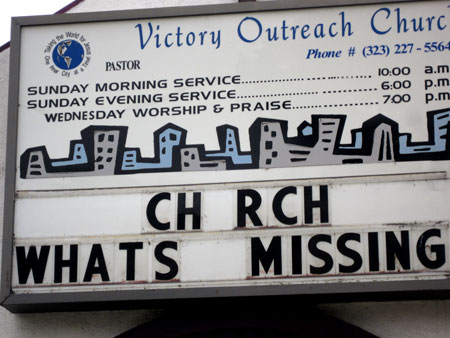 One of my favorite genres of signs are these 1950's style ones on a stylus that contain many different signs to make up one master one.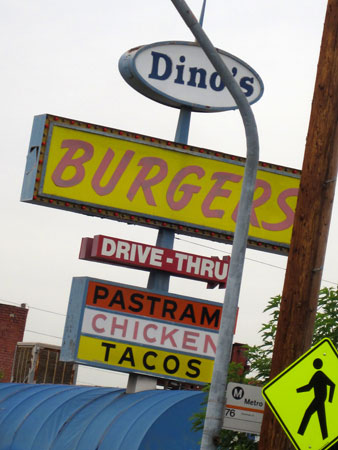 This one is very faded but I love motels so much that I always like when each letter earns its own space: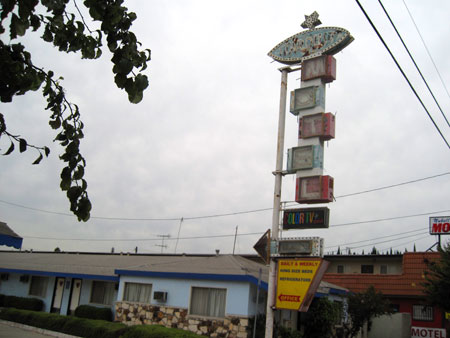 In its heyday, this one must've been a killer: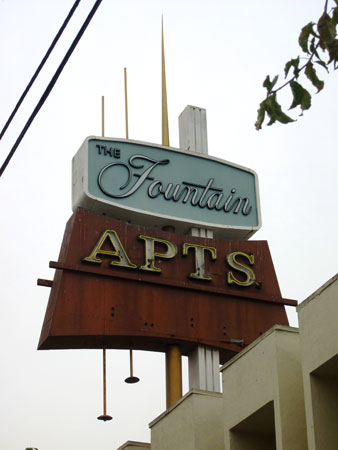 And I always love when these sectioned signs end up in a 1960 cascade of lights at the top: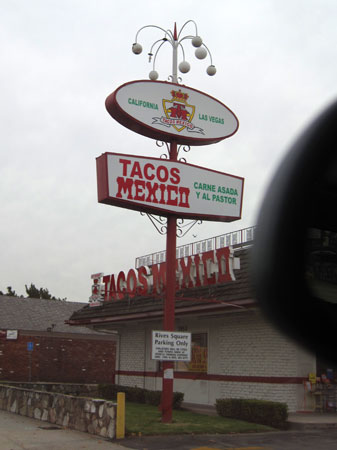 I agree that softserve ice cream is important enough to cap off this honey: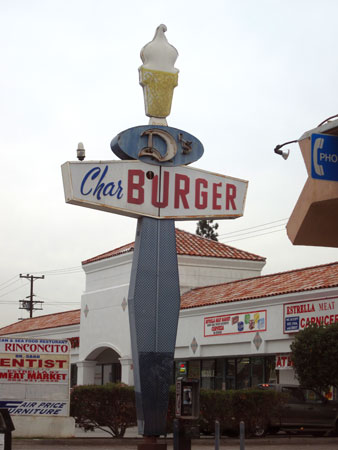 Of course, when a sign is carved into the shape of what it is that they're selling inside it always gets extra points: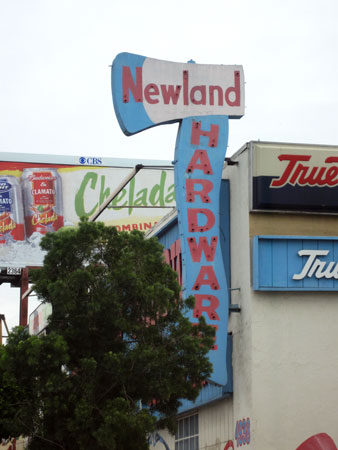 But perhaps no sign has had a more pervasive effect on the American culture and landscape than this: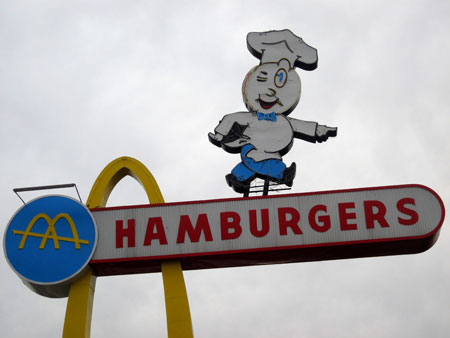 The very first McDonald's in the world, built in 1953 and featuring Speedee the Chef, is still standing and serving today in Downey, CA.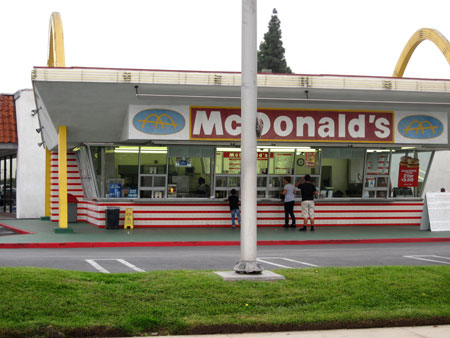 I don't know what this structure is hidden behind the fence right next to it but I'm hoping it was some kind of gas station where burger-chompers could fill up their tanks and ingest fumes from the gorgeous 1950's chariots they were being served in.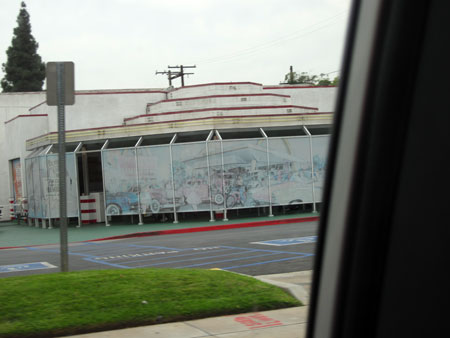 Now here's something I would love to get my hands on. I'm sure Norms was no competition for the almighty McDonald's just a block away, but this little Dutch-gone-Atomic structure with the big saltshaker tower in the middle was probably what I would have steered toward if given the option back in the day: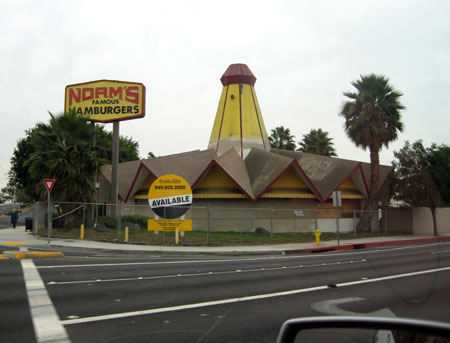 I passed a ton of stunning and thankfully still standing architecture on my drive, like this old movie theater very close to the ch rch a few photos back.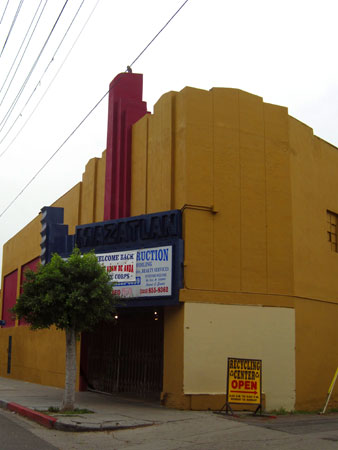 The new slapped-on colors are oh so wrong and it's a shame that a construction company inhabits this instead of a projector and an incredible candy counter, but at least all the details have been preserved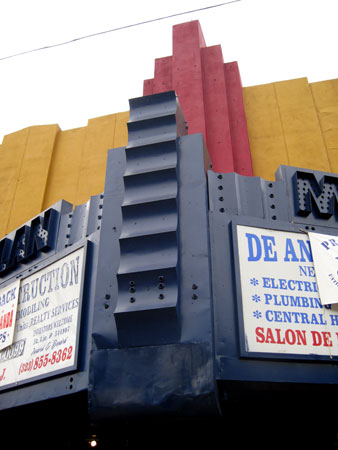 I'm incredibly partial to Deco architecture because I live in such a structure. That these two buildings are still standing on Soto Street is a wonder of anti-wrecking ball nature: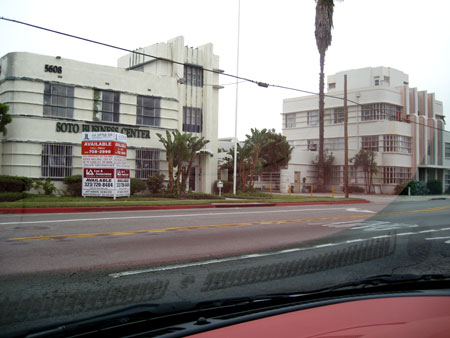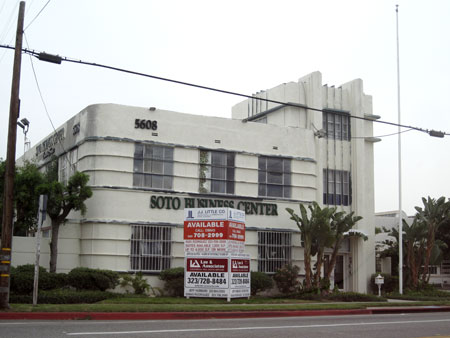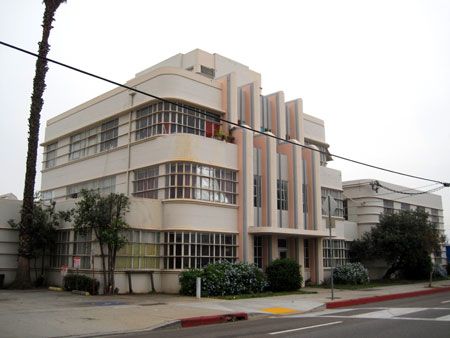 Just as impressive as gorgeous architecture is gorgeous foliage, especially when carved into the shape of  what the architecture holds inside.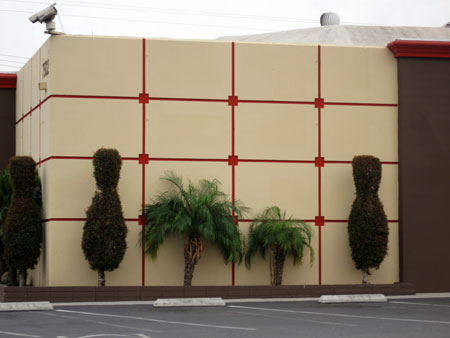 I'm not sure if the Del Rio Lanes in Downey is new or old. Although the architecture screams 1950s, the paint looks brand spanking new, refurbished in a way that a Marge's or Ruby's diner looks old but is inescapably and cheesily retro new.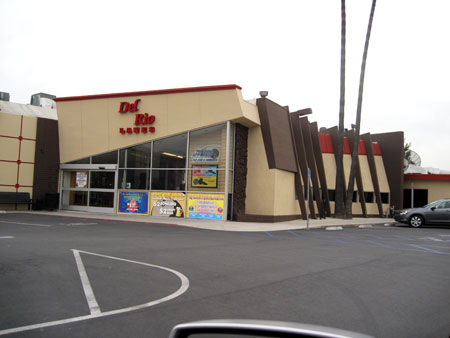 The sign looks like the real thing but then there's something again about the way it's painted that makes me think otherwise: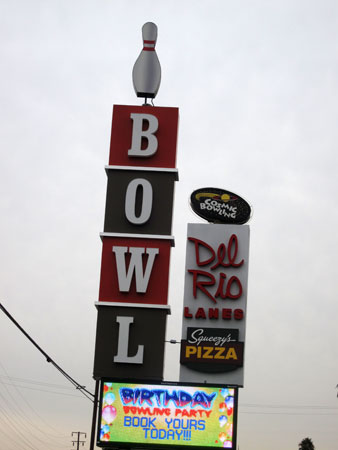 None of that really matters to me because they have the good sense to keep the bushes appropriately trimmed: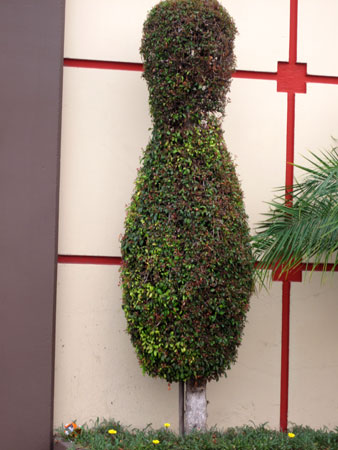 When it comes to appropriate landscaping. There's nothing I like better than a nice burger, fries and a coke up on the roof: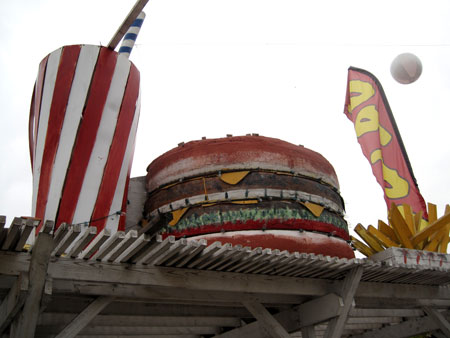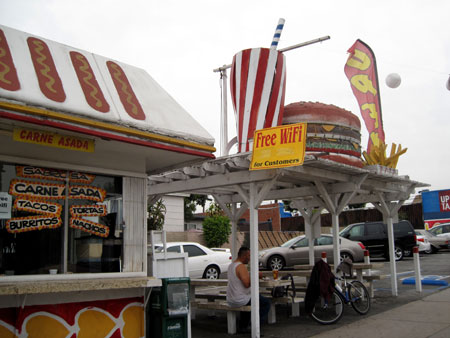 I'm not sure why the hot dogs escaped sculptural interpretation…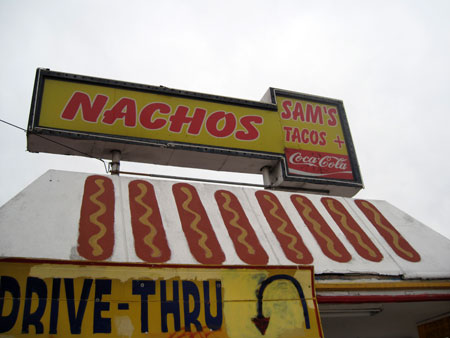 …but they make an excellent roofline nonetheless: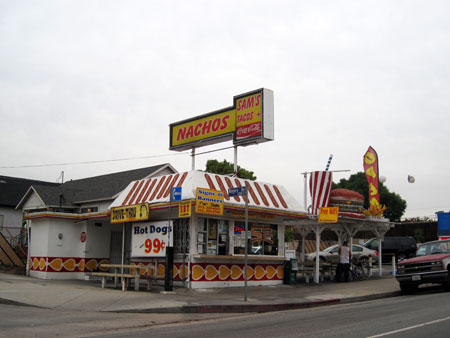 Last but certainly not least, I love a company that sells one thing but moves into a building that represents an entirely different thing in the same genre. This is where I'd want to go if I was interested in cement blocks as a fence, not chain-link.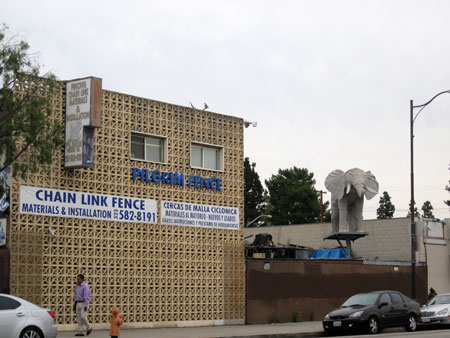 Even better, what does the elephant have to do with anything??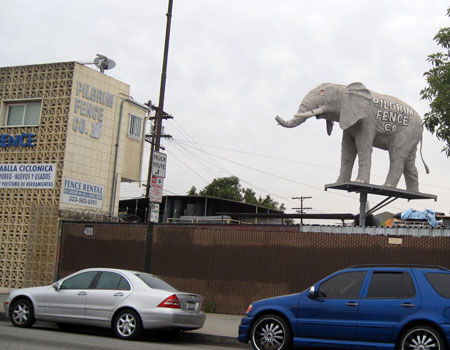 Perhaps it's there to remind me that elephants have extraordinary memories, and that I should always remember what a blessed life I have in that I understand that all these things that have crossed my eyeballs through all these years are gifts to make me smile and remember that one thing I love about life so much is that people get to express themselves in all different ways. And most of them make me happy. Which is a nice thing to experience every day but especially on your birthday.