CALLING ALL DETROITERS! I will be APPEARING LIVE for the first time EVER in the Motor City 3 PM, Sunday, "the 21st (almost) night of September"! Andrae and I plus a 10 piece band – singers, dancers, tires, fire eaters, live tigers – well, a couple of those may not be true but I guarantee you it will be a spectacle among spectacles!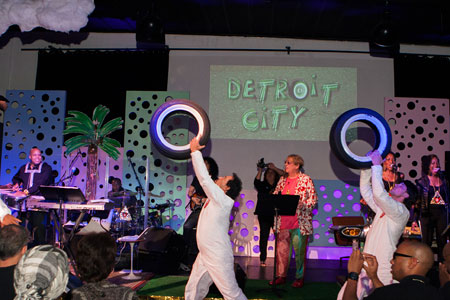 BaDeYa DETROIT features sing-alongs to my some of my greatest greatest hits like 'September", "Boogie Wonderland", "Neutron Dance", the Friends theme, not to mention a not-ready-to-be-released-yet-but-needle-drop preview of "The D"! and is all happening at Detroit's most historic recording studio – the immortal United Sound, 5840 2nd Ave., Detroit, MI 48202, Sunday, September 21, 2014 at 3 PM. Here's the ticket link. Click NOW for maximum enjoyment as seating is very limited!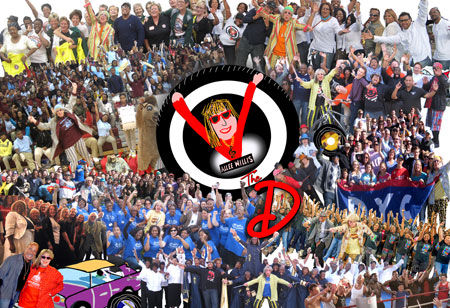 A couple of Allee Willis Live enticing quotes:
"Invitations to Allee Willis's ultra-exclusive … parties are the campiest hot tickets in LA." – People Magazine
The unpretentious and effortlessly hilarious Willis stood before her mic cracking jokes and spinning alternately hilarious and touching anecdotes… Billed as a "songwriter, live performer, visual artist, and iconic party thrower",…the indefatigable and gifted Willis lives up to all of the hype, and more. Who else can one think of who created a marathon catalog of beloved chart-topping songs beginning in the late 1970s, wrote background score and songs for a 1980s movie blockbuster ("Beverly Hills Cop") and "I'll Be There For You," the theme for the iconic long- running sitcom ("Friends"), and ultimately added to her incredibly eclectic repertoire in late career by co-writing a wondrous Broadway musical in 2005 ("The Color Purple")?…Willis simultaneously projects counter-culture hipster and dearly beloved auntie. There's plenty of warmth and refreshing humility mixed in with her thumb-your-nose attitude. – The Edge Media Network.
So please BUY YOUR TICKETS NOW for a magic carpet ride to Happy Land on the 21st day of September!!
BaDeYa, Detroit!!
http://www.brownpapertickets.com/event/811274