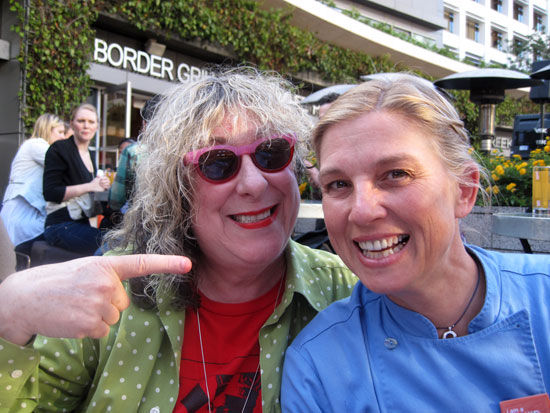 I'm sure that Floyd Cardoz is a magnificent chef and I should've seen his win coming from that constant coming-in-second storyline all season. But having spent at least half of my adult life eating Mary Sue Milliken's food, I went into the Top Chef Masters finale openly prejudiced that she would reign supreme.  But alas…
The true true winners last night were Mary Sue's friends, gathered at Border Grill to watch the finale with her and eat the food she made onscreen amidst the skyscrapers downtown.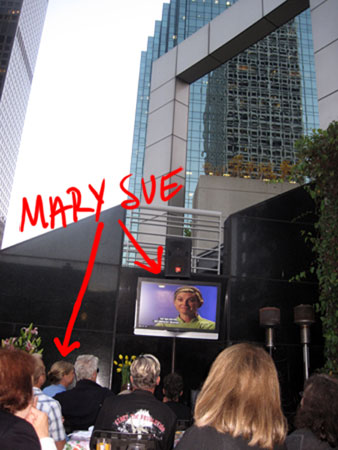 Mary Sue won more challenges this season than any other chef. We couldn't believe she lost, especially as we were sitting there chomping down on the food she competed with. Nano-seconds after Floyd was crowned she was gracious as always, despite guests like me screaming she was robbed!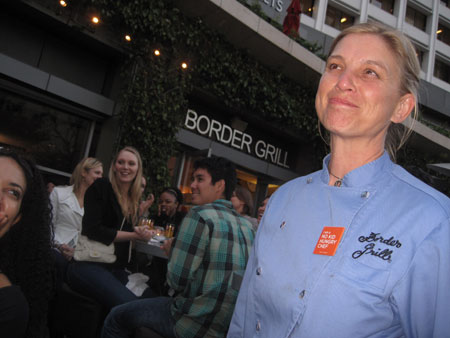 But I'm here to tell you Mary Sue's final challenge dishes were INCREDIBLE. Not only were we were served all of them during the finale as they were served to the judges onscreen, but a whole round of other tongue-numbing treasures were passed around during the final elimination show Bravo ran the hour before.
My apologies in advance to Mary Sue for the following descriptions as I undoubtably short-change everything by not being able to describe every ingredient or name the dishes by proper title. I am NOT the next Food Network star! (Though let me loose on diner fare and that's a different story.)
First came ceviche: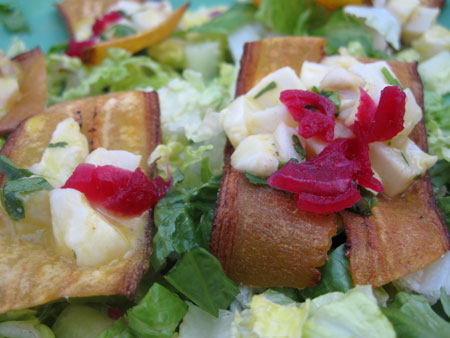 Then cheese empanadas with guacamole: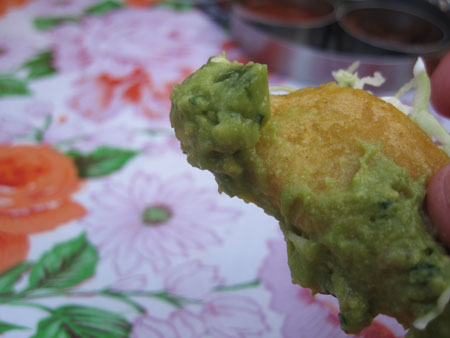 I know that's not the way to photograph a foodstuff when one is trying to impress the quality of it upon the reader. The guacamole should be neatly dabbed on top so the empanada doesn't look like it's been dragged through the guacamole as one would use a scraper to remove ice from a windshield. Here's a better, pre-guacamole view: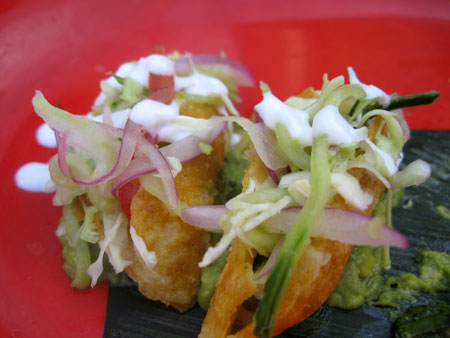 Quinoa fritters came next: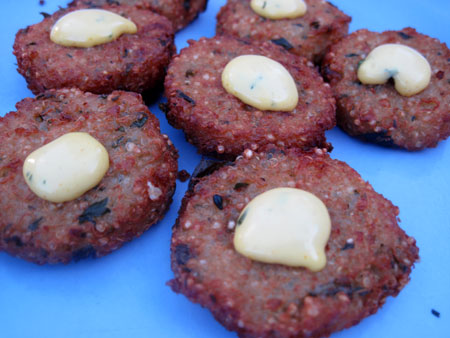 I THINK the following is avocado tacos coated with sesame seeds and quinoa, but I heard someone at the next table fawning over ahi tuna something. So it could go either way. I just know it was crunchy and good. I also know the photo is blurry, but when it comes to Mary Sue's cooking it all deserves to be seen.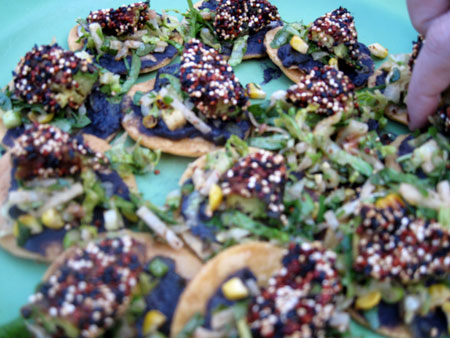 Finally it's 7 pm. and the actual finale show begins. For their final challenge, the chef's had to cook a three-course meal-of-a-lifetime based around food memories. Course #1 was a dish inspired by their first taste memory. Mary Sue made Asian steak tartare.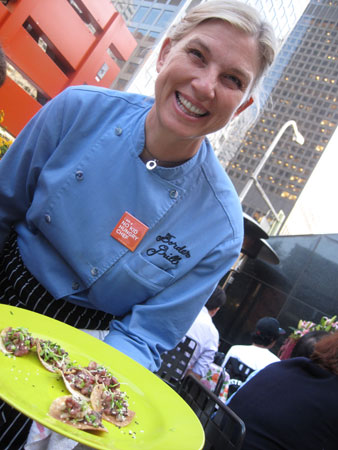 The second course had to represent a dish that inspired them to become a chef in the first place.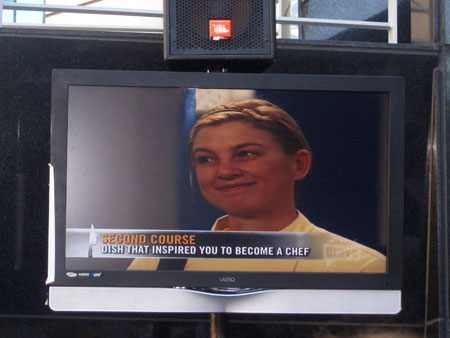 Mary Sue made crab and shrimp salpicon with shrimp and chervil mousse stuffed rigatoni: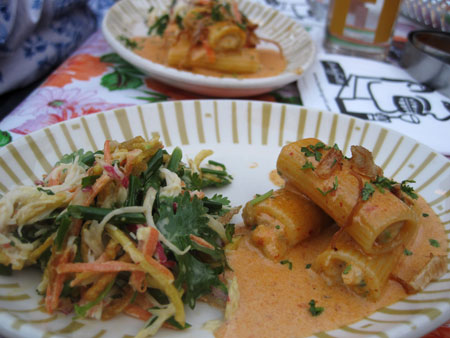 An inside look at that rigatoni:
.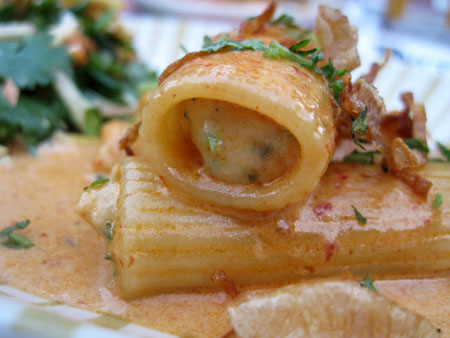 .
Mary Sue's chances were looking excellent on TV as a guest chef diner chomped down on the rigatoni.
.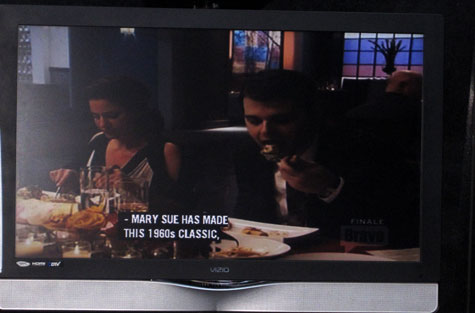 .
Another guest chef diner was Susan Feniger, Mary Sue's partner at Border Grill, Top Chef Master competitor last season, and owner/chef supreme of
Street
, the restaurant I co-own and at which my butt is usually parked at table #20.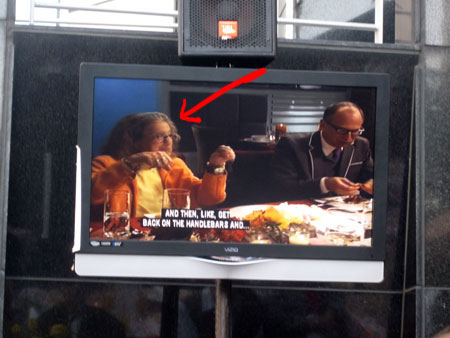 .
Not such a great shot but night was falling and my camera was snapping slower and slower. Susan was in the kitchen last night helping to turn out the never-ending cornucopia of food we feasted on. Here we are with fellow chomper,Troy Devolld.
.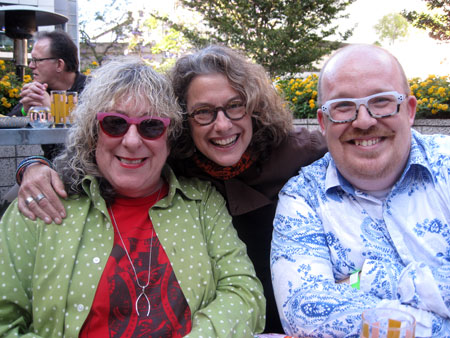 .
For the third course, dessert, each chef was paired with one of the judges and asked to make their favorite dish. Ruth Reichl requested a lemon soufflé. Mary Sue enhanced it with lemon ice cream, lemon hazelnut meringue and rhubarb compote.
.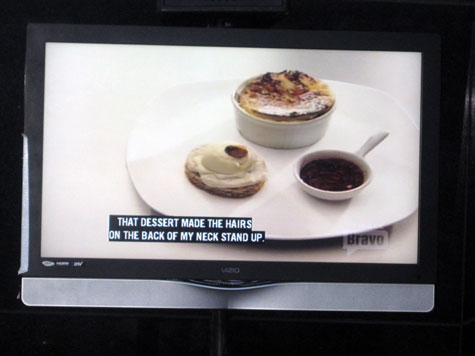 .
Our version included the lemon hazelnut meringue and ice cream but the rhubarb compote was replaced with a churro with chocolate ganache. I'll take dough any day over a vegetable, which rhubarb is despite technically being a fruit. This dish KILLED, but using a flash blew the ice cream out so the churro isn't getting the attention it deserves in this non-flash photo: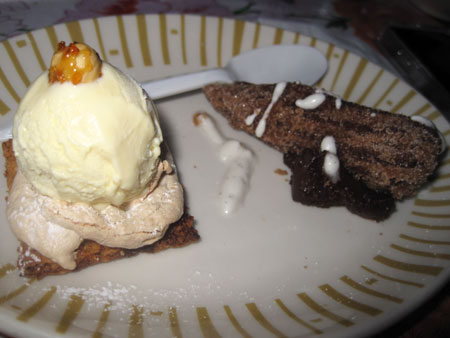 Here's a tighter yet blurryish shot of the churro mid bite:
.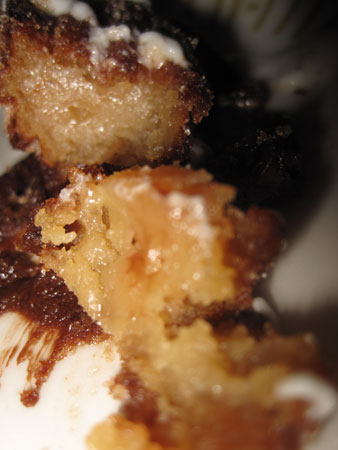 .
The final slurp of ice cream was sliding down my throat as we learned the Queen was not to take her throne. But Mary Sue's personality is so infectious, and she's so damn nice that the crowds' spirit wasn't dampened and chewing continued through the night.
.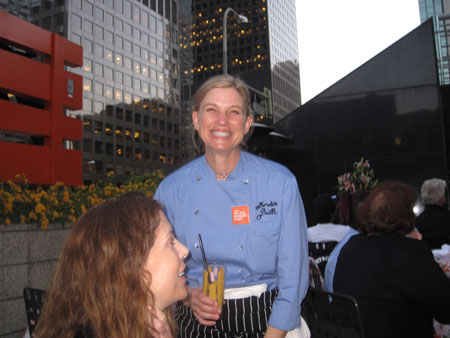 If you've never been to Border Grill, that's a MUST. Really, your tastebuds will be thanking you forever.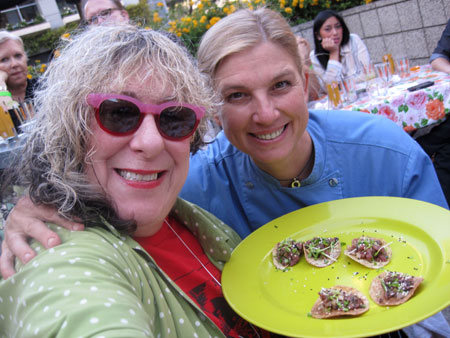 Long live the Queen!