.
So I'm donning my ruby red slippers and jetting to Detroit to ride high atop the NBC-WDIV Wizard of Oz float in the Thanksgiving Day Parade (!!!) and to do 10 more sing-alongs for "The D".
If you haven't seen photos from the last 40, yes FOURTY, sing-alongs we did in Detroit in September, capturing thousands and thousands of people singing and cavorting on "The D", check out these beautiful people NOW!
This time we're going back and filming everyone from hundreds of Motown-born bass and guitar players – all playing at once for one THUNDEROUS "D" sound! – to Roller Derby skaters, bakers, rabbis, pom pom girls, carpenters and canines– yes, they sing too! Here, in fact, is a Miniature Pinscher soloing with me at one of the September sing-alongs: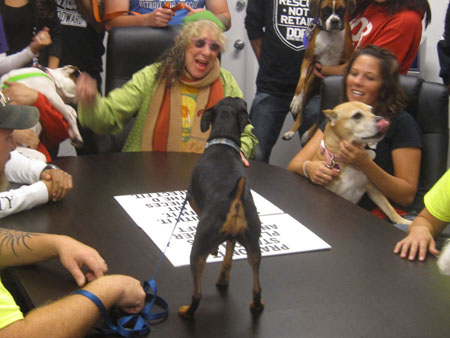 If you happen to be in Detroit this Saturday, the 30th, please join us at an open-to-the-public sing-along at 11 AM with the All About Animals Rescue at Bob Maxie Ford, 1833 Jefferson Ave. and you can sing along with the dogs too!
So please wish me, my 12 person crew, 7 video cameras, 11 still cameras, 1 helicopter camera, 8 suitcases I'm taking for a 6 day shoot, 11 scarves and 13 beanies I'm packing in my sparkly ruby red carry-on so I don't die of hypothermia on the float good luck as we STOMP UP THE SPIRIT in the Motor City once again!
By the way, the irony of me riding on the Wizard of Oz float has not escaped me or anyone who knows me well. I am the ONLY person in the WORLD who has never seen the movie.
Last but certainly not least, as "The D" has grown into something far more MASSIVE than I ever dreamed, your DONATIONS would be most appreciated. This is a song/record/music video/feature-length documentary about the triumph of human spirit as exhibited by the people of Detroit who never stop smiling, never look back, and who aren't waiting for the government or any bankruptcy crap to reimagine their city. The sheer chutzpah, imagination, and belief of self there is truly INSPIRATIONAL. It's a story for everyone, not just Detroit.