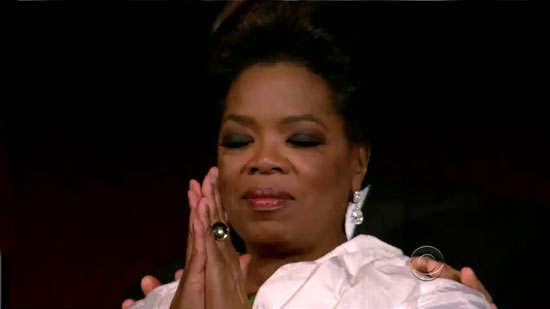 Last night on the Kennedy Center Honors on CBS Oprah Winfrey was the first one to receive her award. Not only did my song,"I'm Here", co-written with Brenda Russell and Stephen Bray, from my musical, The Color Purple, get played during the montage of Oprah's life but it was then sung to her live by Jennifer Hudson, backed by the choir at Oprah's alma mater, Tennessee State University.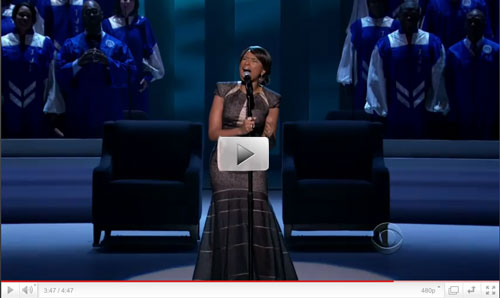 It was a spectacular moment, not only for Jennifer Hudson and Oprah, but for me as a songwriter, who rarely gets to hear their music performed in a way they imagine it while writing as so many songs mutate from a fabulous little gem to an unrecognizable life form once they're in the hands of an artist or producer. In my case, I've been blessed to see this particular song performed spectacularly by an bevy of fantastic singers and actresses, most notably Fantasia, LaChanze, Jeannette Bayardelle and Hudson. Here's Fantasia, who played Celie, who WAS Celie, on Broadway for a year as well as for many months on the First National Tour, singing "I'm Here" at the Tony's in 2007.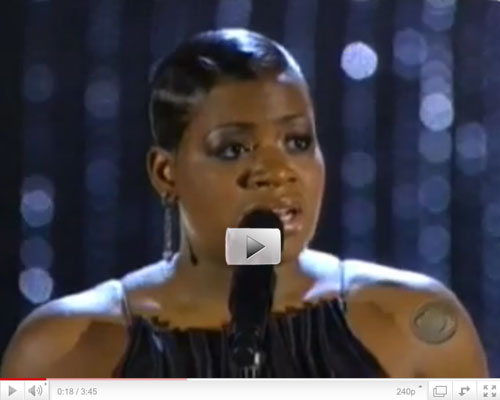 I would've much rather shown you Fantasia in costume as Celie singing "I'm Here" as it's performed in the musical but it's one of the quirks and, to me, one of the most backwards and archaic practices of musical theater, that they don't allow performances to be filmed. Which means that unless you were one of the 1,000,000+ people who saw The Color Purple on Broadway you not only will never get to see LaChanze, the brilliant actress who originally starred on Broadway as Celie and won a Tony for her performance, but you will never get to experience the show as it was originally conceived. As such, all you can do is stare at this CD cover for the next 4 minutes while you listen to LaChanze sing "I'm Here".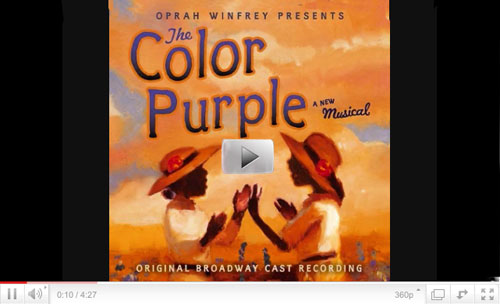 How beautiful does LaChanze sound and how dumb is it that you can't see her?! Or that you can't see Fantasia, who lives the life portrayed in "I'm Here"?! And the same for Jeannette Bayadelle, one of Celie's understudies on Broadway who graduated to the lead role for the First National Tour. There are scattered and muffled pieces of Jeannette singing the song on YouTube, taken on cameras snuck into the show, but that's not the way for you to see these great singers and actresses and it's certainly not the way for you to see the show.
It's nutty to me that people can't be exposed to theater the way they are to all other entertainment mediums because of some ancient rule that the only filming allowed is of one performance that lives in the archives at Lincoln Center that only the authors and producers of the show can see. And by appointment only. How out of touch is that?!!! But you don't want to get me started on everything I think needs to be adjusted in the world of theater so that new generations can embrace it as enthusiastically as ones did did back in the 40s and 50s, when hit musicals were on the tips of everyone's tongue and not just the elite and tired few. Okay, enough… this post is about the brilliant performance of Jennifer Hudson last night and the brilliance of Oprah as an outstanding human being, not to mention how completely overwhelmed and thrilled I am to see the effect of "I'm Here" on the honoree: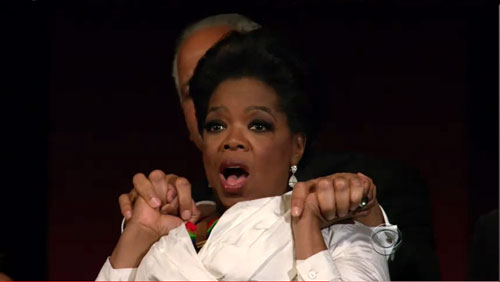 Often times as a songwriter you're the one left behind. Everyone knows the artist, in some cases the person who has the least to do with what you're hearing or seeing, and many people know the producers. But songwriters create in the privacy of their little hovels and and rarely get the glory unless they're recording artists themselves. I'm not complaining –  well, I am – but I know that I've been blessed to have my songs covered by artists all over the spectrum of music. And one of the nicest gifts of all was watching TV last night and seeing this bunch of people kicking back and enjoying my song: