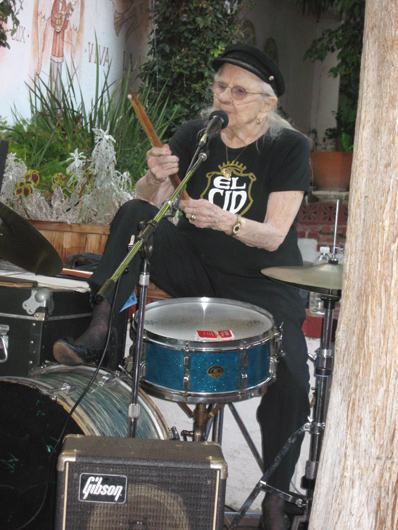 How I didn't know about this dynamo drummer and firecracker of a spirit named Jerrie Thill when she's led her own all female bands for over 60 years is nuts. Especially given my proclivity for being attracted to distinctive characters like The Del Rubio Triplets or "Shagman" Seymour Heller, Liberace's manager for 37 years, who forge their own way where no way has existed before. The sheer force these people exude to manifest whatever vision they have of themselves is a trait I've aspired to emulate ever since I realized I had a mutant career that didn't follow the normal Hollywood path to success. It would be up to me to pave my own orbit if I wanted to ever combine everything I did – music, art, video, technology, collecting, entertaining, et al – into one fiery ball of art expression. Jerrie Thill, NINETY ONE AND STILL SMACKING THE SKINS, propelled herself into a similar orbit drumming and singing her way from The Great Depression to The Might As Well Be Great Depression upon us today.
Jerrie isn't happy unless two sticks are in her hands and high heels are on her feet tapping the bass drum like a steady heartbeat. Her body language is a study in HAPPINESS, her little arms flapping like birds as if the sticks lift her off from the drumheads. For the past 4 months she's been attached to an oxygen tank. It's slowed her down some, just for the sheer pain in the ass of having a tank as a third arm. Not to mention those tubes that connect it to your nose. But I'm so into the quirkiness of a 91 year old drummer, female no less, that the oxygen just becomes an interesting fashion accessory and makes the overall intensity of what I'm seeing and hearing even better.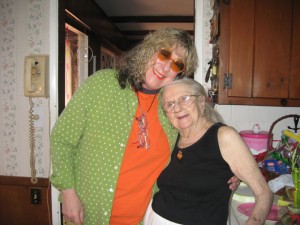 My neighbor, songwriter Alison Freebairn-Smith, introduced me to Carol Chaikin, Jerrie's younger sax sidekick, at our block party this summer. Carol's been playing with Jerrie since 2002. Alison documented them for her just-about-finished documentary of all girl bands which, by the way, did not start with The Go-Gos, but has been alive and flourishing in the US since the 1920's. Jerrie's led or been in tons of those bands including the famed Dixie Belles, who I saw on Johnny Carson in the late 80's and almost needed oxygen myself.
These days Jerrie and Carol and whoever else feels inspired to join them play Sundays at El Cid, a gem of a vintage Mexican eatery in LA. But their most important stop is right here at Willis Wonderland where we're recording a song I wrote in her honor, "Hey, Jerrie". Jerrie came over last week and smacked out the drum track in one take. Her kick drum sound is the best I've ever heard, 60 years of high heel grime and funk on the ones.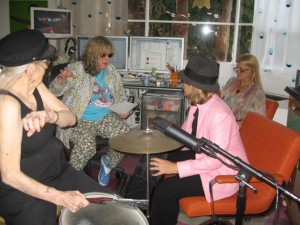 We're almost done with the record, also featuring a 6 year old drummer and 11 year old Blues and Jazz guitar virtuoso. Then I just need to whip a video together and you'll hear it. Hopefully that won't take the usual 7-9 months my other videos have taken. I got to move as fast as Jerrie!