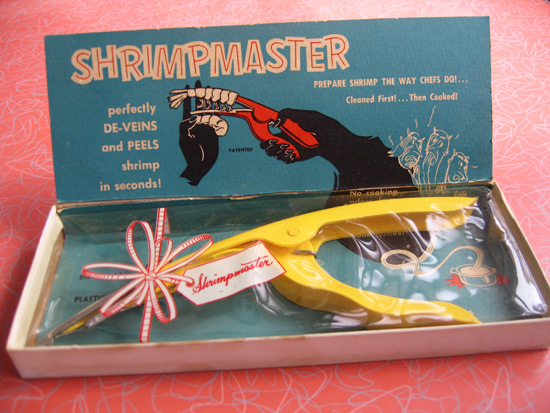 I am so absolutely not a cook so the fact this 1950's kitchen tool de-veins and peels a shrimp in one fell swoop isn't what I cherish most about it but, rather, the gorgeous aesthetics that grace the box. From the pre-psychedelic background pattern on the lid…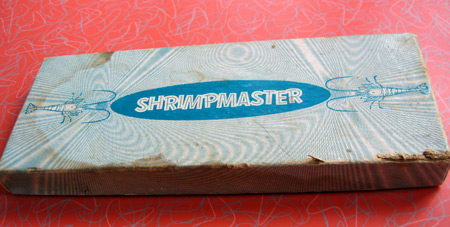 … to the gorgeous color palette inside, the bizarre lower arm graphic with little devils popping out of it as they rise in steam from the non-boiling-over pot below, the meaning of which completely escapes me,…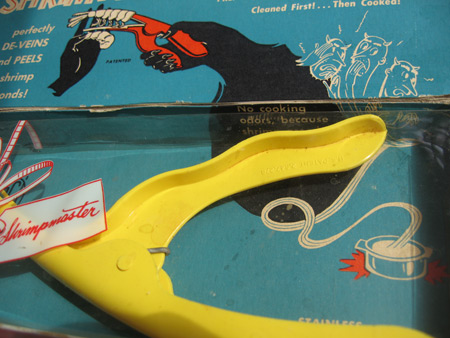 … to the shiny ribbon and Shrimpmaster tag laden layer of brittle plastic that still ripples over the pristine utensil – all of this is mastery in 1950's package design.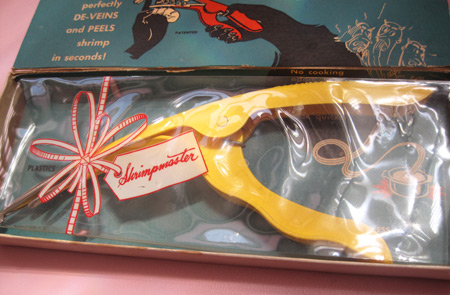 I bring up the Shrimpmaster today because I dined at Street last night with three as artfully designed friends, two of which were vegans and one who was vegetarian. So as not to send them screaming from the table when my usual steaming platters of Tatsutage Fried Chicken and Lamb Kakta Meatballs arrived, I ordered Andouille Sausage And Shrimp Gumbo. Yeah, it was pumped full of delicious smoked hot link sausage but all evidence of that was hidden under the okra, corn and red beans and rice while massive shrimp played lookout on top.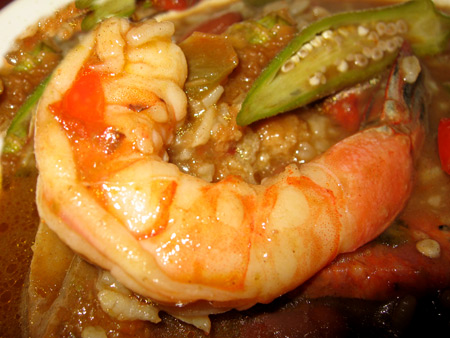 The monster Crustaceans were beautiful and clean, as if someone in the kitchen took to them with a Shrimpmaster, though I know the chefs are skilled enough to accomplish this without the handy vintage tool.
My dinner companions were Tiffany Daniels, Mito Aviles and ChadMichael Morrisette.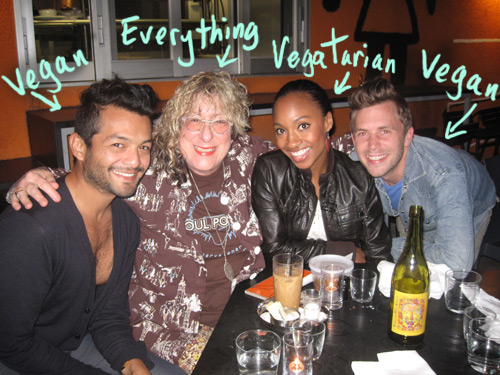 Tiffany played Squeak in the first National Tour of my musical, The Color Purple. Squeak's crowing scene in the show occurs in a bar brawl with the much beefier Sofia. Compared to Sofia, Squeak is a SHRIMP.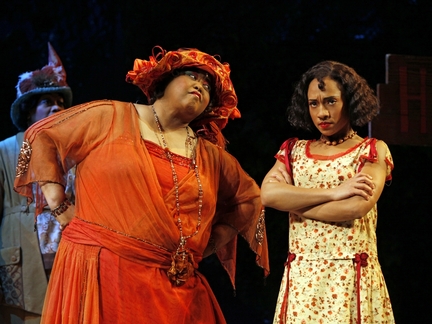 Just last week, Mito and Chadmichael led an 'art attack' on the West Hollywood City Council and not so long ago hung a Sarah Palin mannequin in efigy from their roof, an act that was plastered throughout the press. These boys are certainly NOT SHRIMPS when it comes to self expression.
As far as the SHRIMP-worthiness of our meal, there were no such critters in the vegan dishes like Indonesian Peanut Noodles: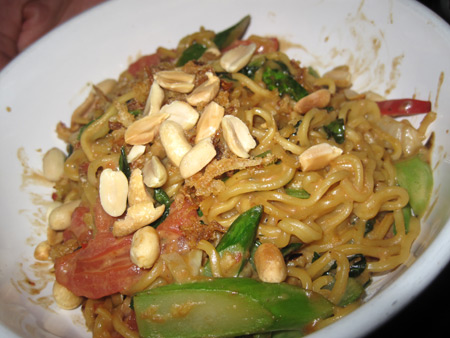 And none in the Stir Fried Chinese Brocolli: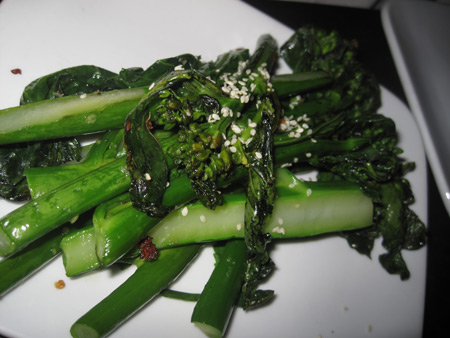 The Toasted Amaranth with slivered almonds, cuzco corn and roasted yam in almond milk was a no shrimp zone as well: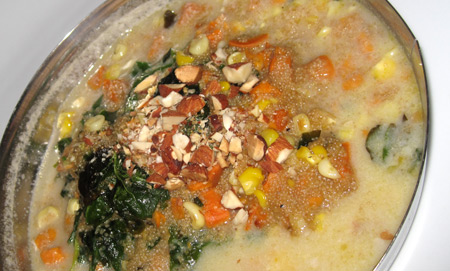 Crossing into vegetarian territory there was positively no shrimp in the Ono Sashimi. Our waiter pointed out that this particular serving resembled an actual fish.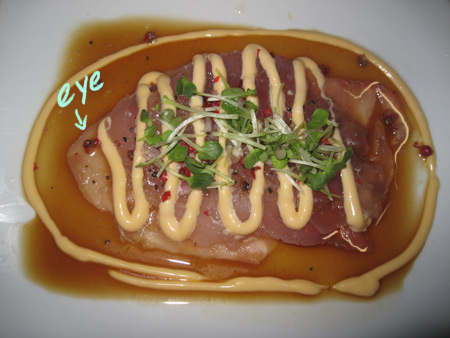 The rest of the meal was filled in with Burmese Lettuce Wraps, Fried Plantains, some kind of specially made vegan desert with too much fruit for this candy worshipper to want to try and a big ball of smooth chocolate something sprinkled with powdered sugar. No shrimp were harmed in the making of any of these dishes. But had there been a need, I know the Shrimpmaster was primed and ready for service.