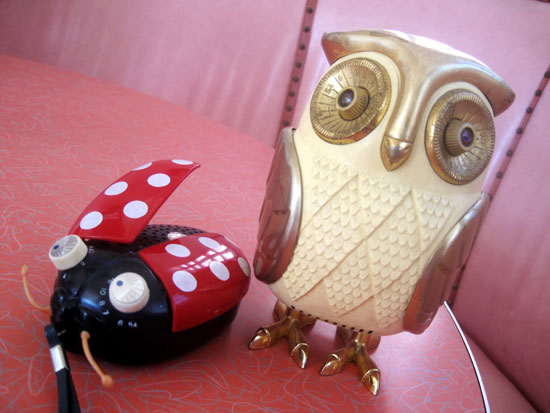 I love actual owls and ladybugs but none so much as these transistorized versions. I have entire zoos and forests of these things but these are two of my favorites – a ladybug who, when you twist her left eyeball, opens her wing to expose a still working speaker and an owl who, when you twist her right pink rhinestone eyeball, chirps the sound of AM radio as clear as the day she was hatched. I bought the owl in the early '80s and she still works perfectly despite the fact that I've never changed her batteries.
The ladybug's all plastic and made in Hong Kong by Sonnet, British Design. Five inches long by an inch and a half tall, she comes with a convenient wrist strap and two rubber antennae which serve no apparent purpose.
The owl, made in Japan, is 8 inches tall and fat with a plastic body and gold medal wings, eyes, legs and speaker holes in the crotch.
Close ups of the species: