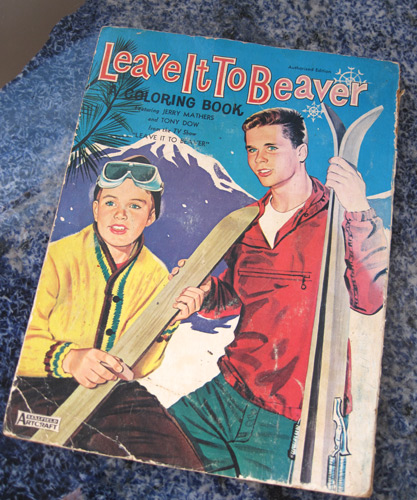 When I was a kid I was SO into Leave It To Beaver, probably as much because of the glow from the Sylvania Halo Vision tv I was watching it on and the Velveeta sandwich on white with one thin leaf of Iceberg draped across it that was the ritual meal of my childhood. I'm sure I've seen every single show of the original series that ran from 1957-'63. I was also into Lassie, My Three Sons, Dennis The Menace and other series that showed life from a kid's point of view but I always liked Beaver because he was so inquisitive and annoying.
As an adult, once I moved to California I was elated to find a very kitschy restaurant in the middle of a golf course at the end of the runway of the Van Nuys airport owned by Beaver star, Barbara Billingsley, and named, appropriately enough, Billingsley's. It was a steakhouse built in 1969 that served blue Jell-O for desset and remained pretty much intact until it finally and sadly closed a few years ago.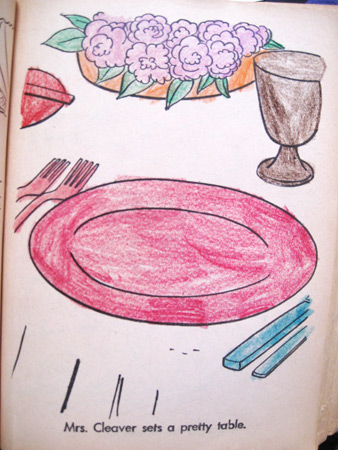 I went to Billingsley's constantly on Sunday nights because of the great Graydon Wayne, ex- Three Suns member who faithfully sang and played three organs at the same time holding court around a classic piano bar. But as much as I loved listening to songs I otherwise never would've listened to while munching Surf 'n Turf and sipping drinks out of a seashell I never lost sight of what excited me most – the fact that The Beav's mom owned the joint.
P.S. I didn't do any of this coloring. I was the type who always liked my colors very bold so there wouldn't have been any of this frail, lighter-than-a-feather technique in any crayon execution of mine: