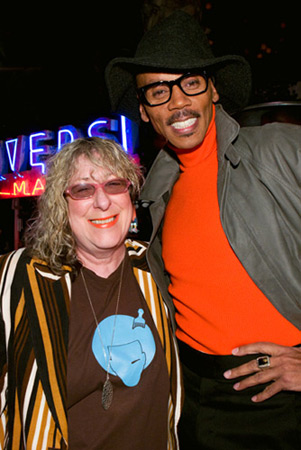 . Me and RuPaul
I go through this after every party I throw. I work for weeks and sometimes months doing everything from fixing my house up to handmaking invitations, building displays, making mix tapes, signs, planning theme food and drinks, games, lighting the place like it's Disneyland, basically doing anything I can to make this the most amped up party atmosphere on Earth.
I've long viewed my parties as my ultimate art form so I put every ounce of strength and sweat I have into it. I want to have the greatest time of my life and unless my guests feel the same way it doesn't work for me. I not only host these things but emcee, produce and direct them as they evolve throughout the evening. All of this means I end up being a verrrrrrrrrrry tired little girl once they're over. So as much as a great hostess should be conscious of posting photos in a time sensitive fashion befitting of the web, the only thing I saw yesterday, the day after the party, was my bed and the tail end of the evening's performance of The Color Purple at The Pantages. So I apologize for the now 36 hour delay…
The Sound of Soul party this last Monday night, February 22, 2010, was one of my favorite AW extravaganzas ever. In commemoration of Black History Month and the fact that my baby, The Color Purple musical I spent five years co-creating, is in town for the very last performances of the First National Tour, it seemed ripe to tie the occasions into the bi-annual fundraiser I do with Pacifica Radio Archives to raise money to digitize never-before-heard, historic 24 track African-American audiotapes and get them into schools. This stuff is heavy duty like Rosa Parks' first interview after getting out of jail, Alice Walker's first ever reading of The Color Purple and Coretta Scott King reading the speech Martin Luther King was to deliver the day he was assassinated to 30 of their closest friends in Central Park 3 weeks after the assasination. The only other time that was heard was when Pacifica digitized the tape and sent it to Mrs. King's funeral. This stash includes incredible speeches, casual conversations and performances by every major Black figure of the 20th century including Martin Luther King, W.E. B. DuBois, Ruby Dee, Ossie Davis, Malcolm X, Rev. Ralph Abernathy, Marcus Garvey, Mohammed Ali, Angela Davis, James Baldwin, Miles Davis, Dorothy Dandridge, Fannie Lou Hamer and hundreds more… An apt cause to celebrate, which we did… heavily.
I'm just beginning to feel my legs attached to my body again. I wanted to throw some captions on the photos but I don't want it to be 2011 by the time I finally post them. Just know that I enjoyed having all these beautiful, handsome, happy, uplifted, talented and generous folks here at Willis Wonderland and we did, in fact, raise lots o' cash to get these tapes into many of the schools that my guests went to. And as if that wasn't enough, thank you, Colt 45, for those 15 cases.