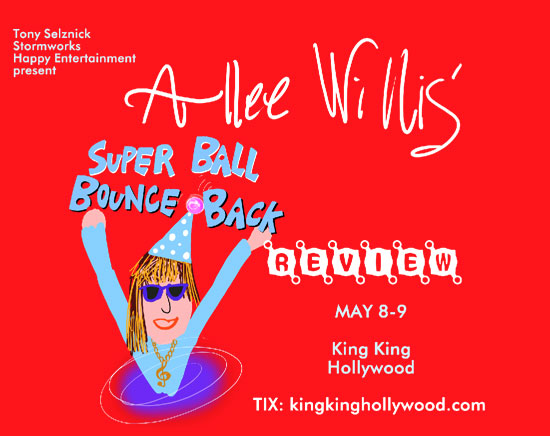 Rehearsals for my May 8 & 9 return to the stage in my Super Ball Bounce Back Review have begun. Given what happened at my last show in October this is very significant!
I also leave for Detroit on Sunday where I'll be hosting a benefit greatest hits concert at my high school and telling stories of how some of my biggest hits were written while students perform the songs. This includes kids from the dance and drama classes, concert choir, marching band and ROTC drill team.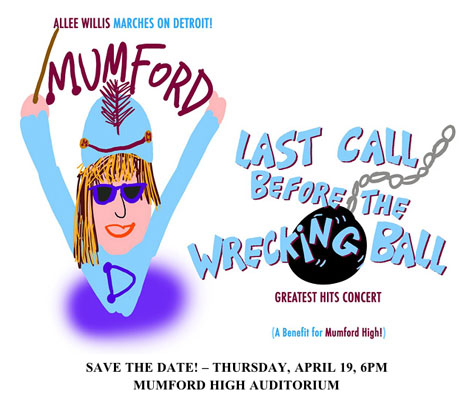 Don't even ask me how excited I am about that! Plus it gives me a chance to rehearse some of the stories I'll be telling at my live show in LA in May. I'll also be speaking to students at my father's high school as Cass becomes only the second high school ever to perform my musical, The Color Purple. And all this is stuffed in between 8 trillion meetings with movers and shakers, big and small, to feel out a couple of long term projects that I want to do in my beloved home town.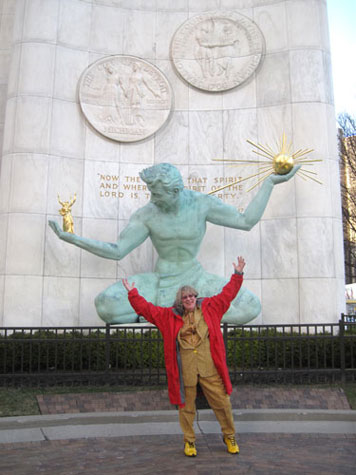 All of which means I'm going to be completely insane over the next 30 days, which will inevitably cut down on my blogging activities as time I may have spent writing is now going toward prep and rehearsal of those ever-important two days in May, not to mention my week in Detroit.
As a result, I'm going to try and become an interested little tweeter. I don't know if this will work as I've resisted regular tweeting ever since the bird first launched. As an avid natural writer, I've always viewed the constant barrage of 140 characters as an invasion to my headspace. I'm also someone who likes to think about what I do, so longer than 140 has always suited me best. But, at least from where my head is right now, tweeting may save me as I try to report in tiny chunks as opposed to longer daily excursions. Here are my tweets from yesterday documenting my first steps toward the stage again:
Rehearsals for my Super Ball Bounce Back Review at King King May 8 & 9 have begun! http://kingkinghollywood.com/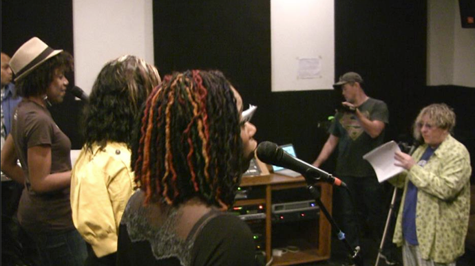 (BTW,What are the chances of there being another A. Willis gracing the stage with me? Well, that's exactly the case here. That's A. (Akua) Willis in the hat.)
Perhaps one day I'll learn the lyrics to my own songs… Creeping slowly through Boogie Wonderland.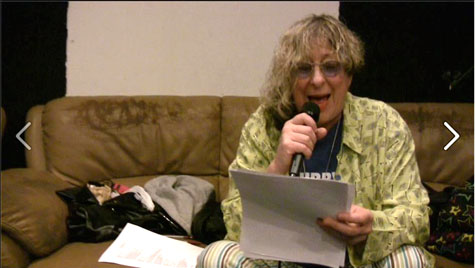 Slashing the script right outta da gate with Richard Dorton, my SKILLED and WELL REHEARSED tech director.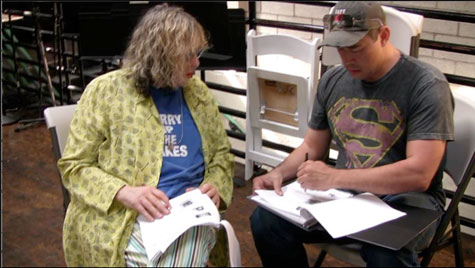 I know these are nothing dramatic and so far the only way I'm interested in tweeting is if I can have a photo as a punchline. I put this one up this morning, though the photo's just a photo and not a punchline:
We'racing 2 finish horror film that opens my new show @ KingKing May 8&9. Best of horrific tech failures frm last show.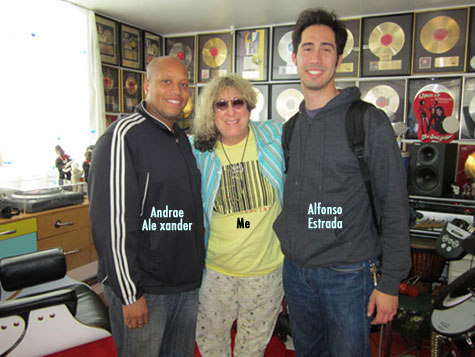 I hate typos like 'We'racing'. That happened in efforts to cut down to less than 140 characters so a photo could accompany the tweet.  In the old world I also wouldn't have wanted to give away the fact that I was making a horror film of the most Titanic moments from the last show, but in a tweet-filled world there's no room for secrets.
Today's a free day at home, marking the start of the three day/three suitcase packing process. Hopefully the bug hasn't hit me full strength just yet and I won't become one of those tweeting fools who shows you every single thing I'm putting into those suitcases.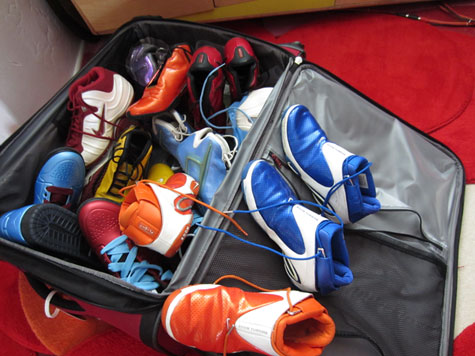 Of course, I couldn't resist and just tweeted that. Now I just need to knock this down to 140 charcters:
My nimble assistants, Dina and Suellen, cut face masks and assemble souvenir multipurpose "Unisex Pendants and Keychains" made out of bubblegum charms that will be for sale at Allee Willis' Super Ball Bounce Back Review May 8&9 at King King in Hollywood.