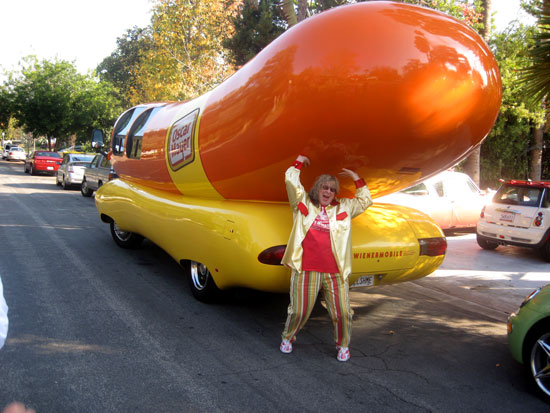 I've only waited a lifetime for a ride in the famed Oscar Mayer Wienermobile and last Wednesday, December 14, my dream came true!! Susan Olsen, a.k.a. Cindy Brady, the youngest of the B. Bunch, Charles Phoenix, Mark Blackwell and I hopped aboard and rode the wiener to some of our favorite kitsch spots in the San Fernando Valley. When one is onboard such a vehicle, photo opps are not to be missed!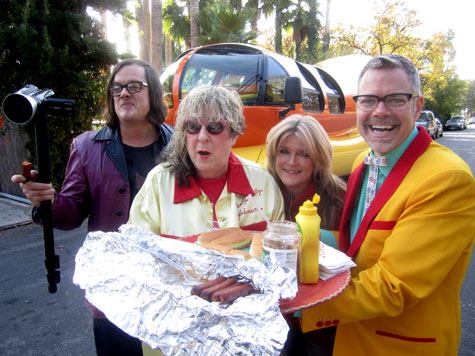 It's hard to look bad in a photo with The Wienermobile. So there's going to be A LOT of them in this post, probably enough to serialize the adventure so check back later in the week or beginning of next for more. With that in mind I'll start slowly, like how we all color-coordinated to look as fabulous against the backdrop of the transportational hot dog as possible. I threw my outfit together last minute but was happy with my choices, picking up all the essential colors of hot dogs, mustard, relish and mayo.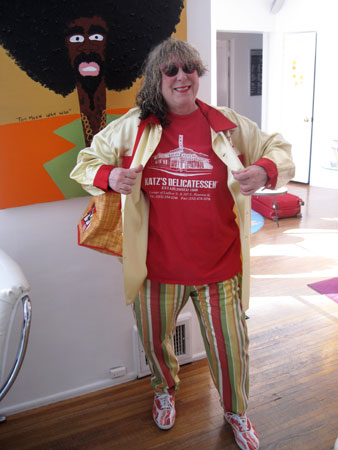 Here's a closer look at my vintage Legionnaires shirt, made from that kind of expensive 1950's satin that feels like you're going down a cashmere slide: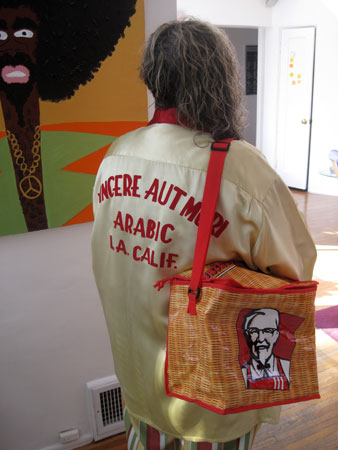 I know there's no Oscar Mayer at KFC but it was the closest thematically of any shoulder bag I had.  My T-shirt was much more on the nose…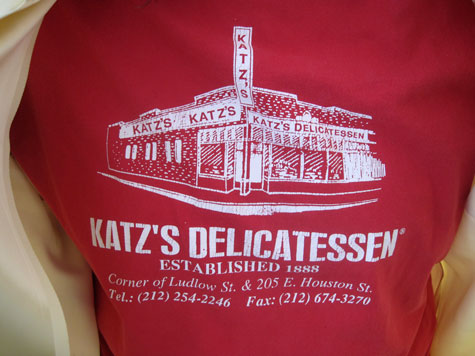 … as were my shoes: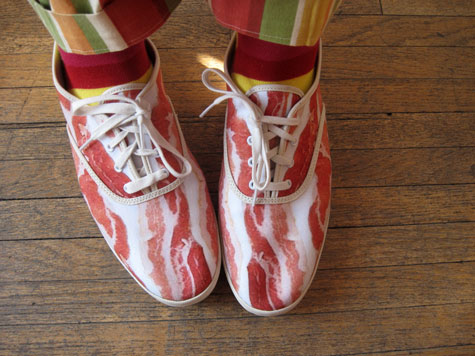 The first thing I did once I was dressed was to roast some wienies.  It gave me a perfect excuse to test out my recently acquired 1958 golfball barbecue: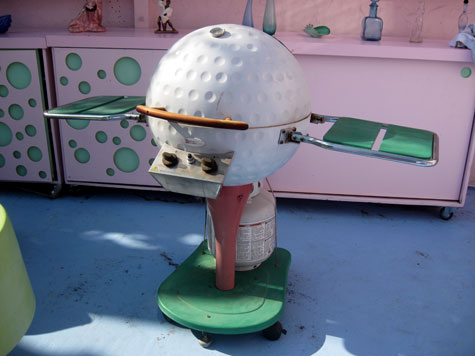 I cooked up sixteen dogs so we could stuff ourselves throughout the day. Here's the first  one, literally, on the grill: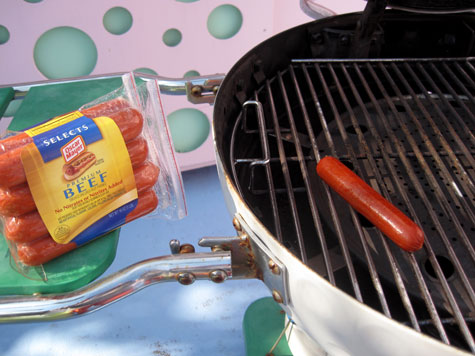 First to arrive at Willis Wonderland for our big wiener ride was Mark, who documented us throughout the wiener day: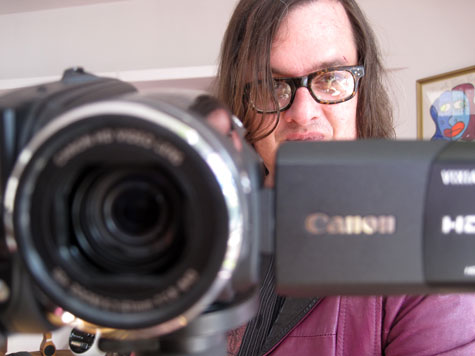 Next was Susan, appropriately dressed in wiener red: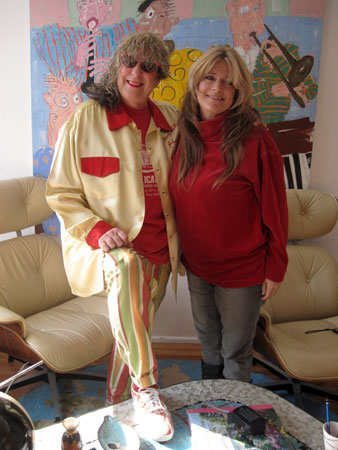 And then Charles arrived, dressed in a dead-ringer Wienermobile matching suit and carrying a banner bearing our favorite brand's namesake.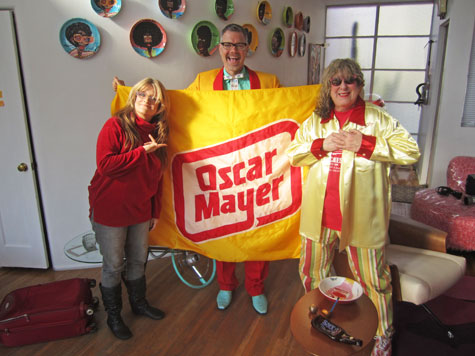 This also doubled as a fashionable cape.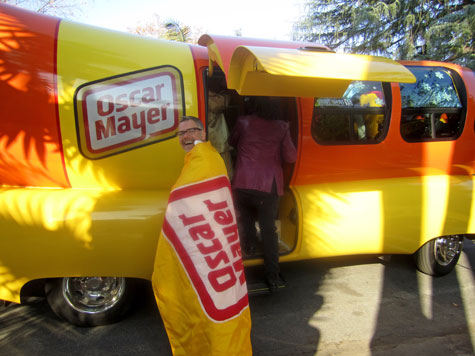 It's obvious we all passed the color test: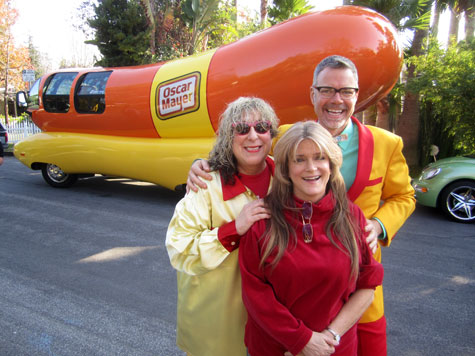 We took many such proof-of-concept photos: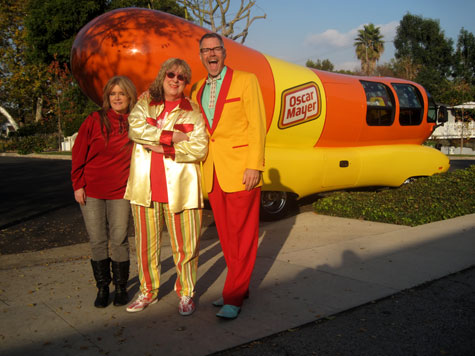 There are so many obvious ways one wants to pose against such a stunning background: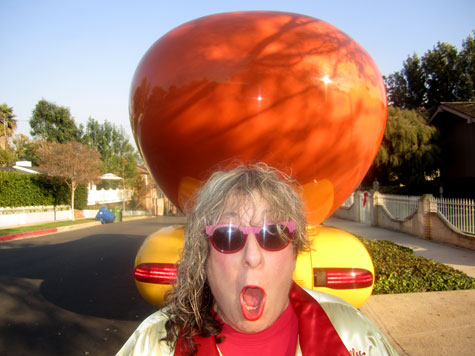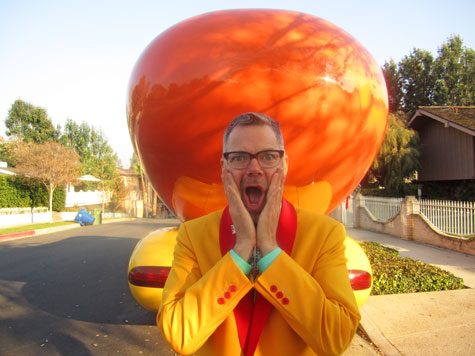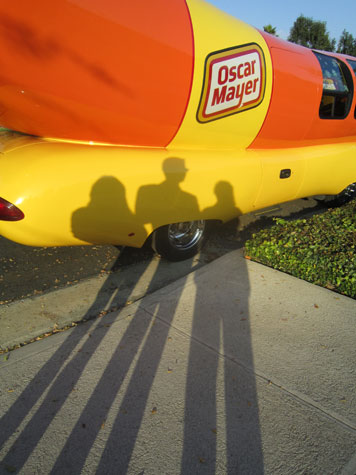 When the Wienermobile first pulled up I wept with joy. I had forever envisioned it in my driveway.  Alas, the wiener was too plump to actually fit so it rested nicely in front until we boarded.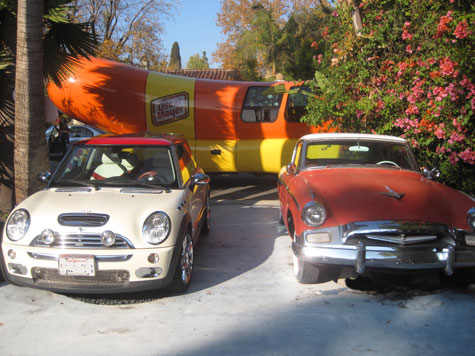 Before stepping into the vehicular hot dog we ran inside for a quick wiener ingestion: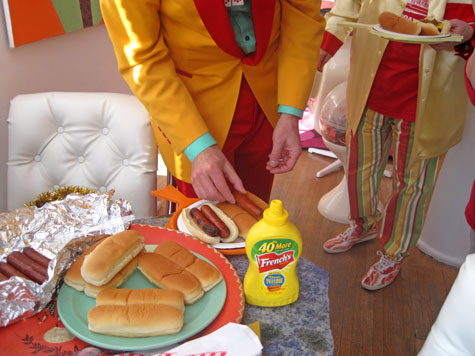 They don't actually serve food in the Wienermobile so we brought the leftovers with us. But we were so excited to finally board the hot dog we had all been dreaming about since we were born that we forgot and left them on top of my car: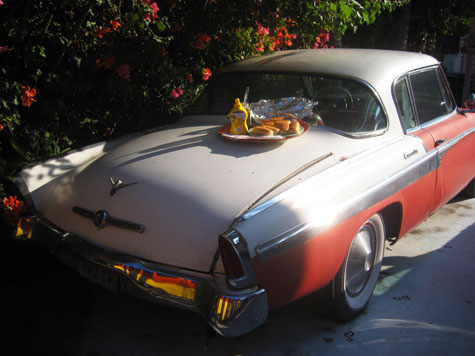 Our Hotdoggers, college interns who serve a full year driving the wiener wondermobile, were Yoli Bologna and Tailgatin' Traci: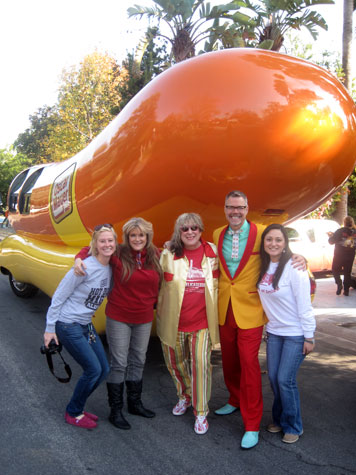 You could literally hear an audible gasp from each of us as we entered the Wienermobile for the first time.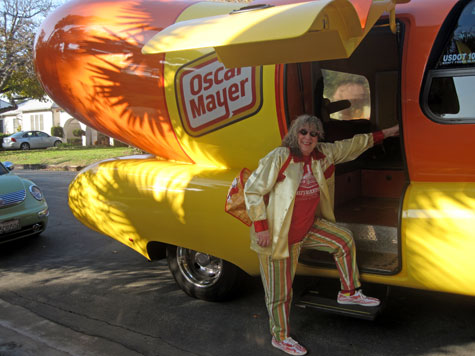 It's got six seats, a mustard floor,…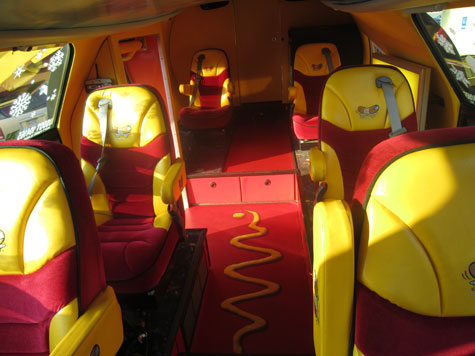 … an appropriate floor mat…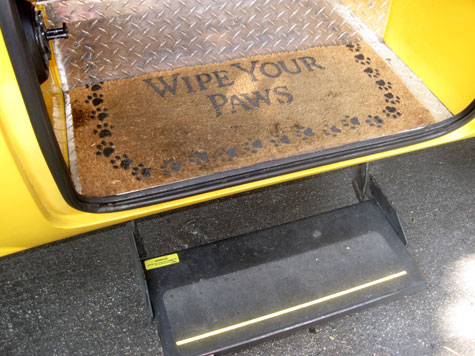 … and a sky roof.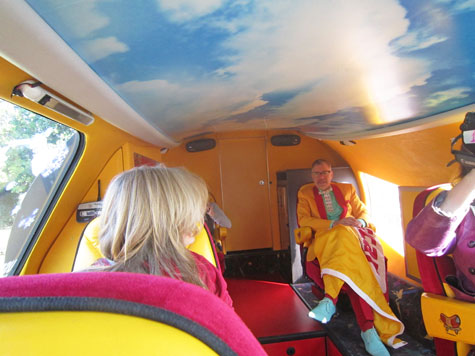 The seats were LITERALLY the most comfy car seat any of us had ever sat in. Plush yet solid, with armrests that made you feel like you were waiting in a highchair for a jar of hot dog baby food. We didn't stop yapping about them the entire afternoon.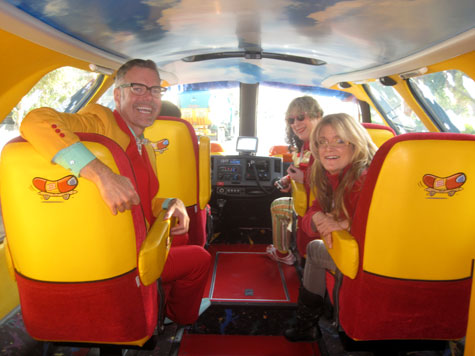 We especially loved the embroidered Wienermobile on the back of each seat.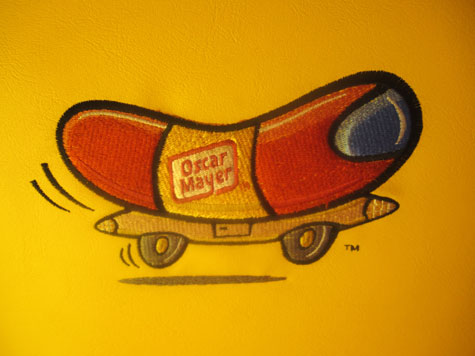 None of us could figure out if the hot dogs on the dash had any purpose other than an as an exceptional decorative touch.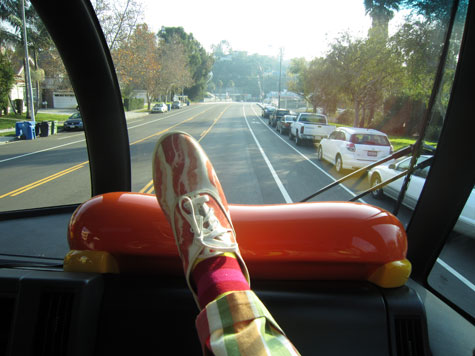 We thought we only had a half hour in the Wienermobile so we headed to Ventura Blvd., the street where we thought there'd be the most foot traffic so we could wave to the masses like beauty queens on a float. Charles mentioned that the real Brady Bunch house, the one used for the exterior shot that pops up in every episode, was probably only blocks away. Not only did I have no idea it was in the hood but Susan – an actual Brady – said she had never even seen it herself! How could this be??!  Cindy-I-mean-Susan explained that as a wee star she couldn't compute that a house that was clearly two stories…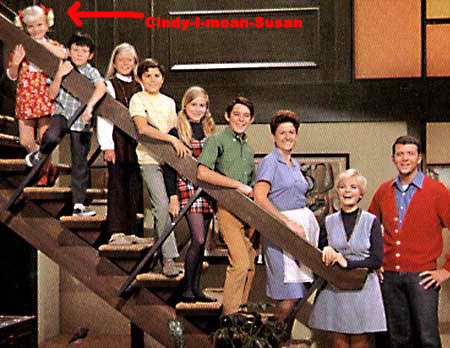 …was in reality only one.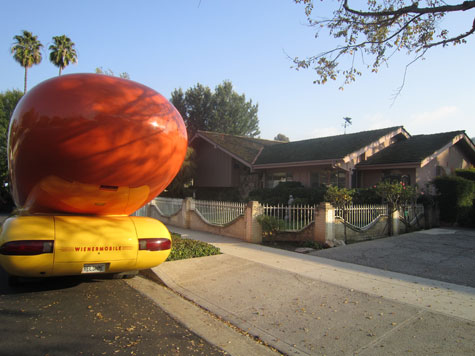 So the Wienermobile, a deceptibly agile vehicle, whipped a U-ie and headed east toward Dillon St. As the top of the A-frame house poked into sight we started going nuts.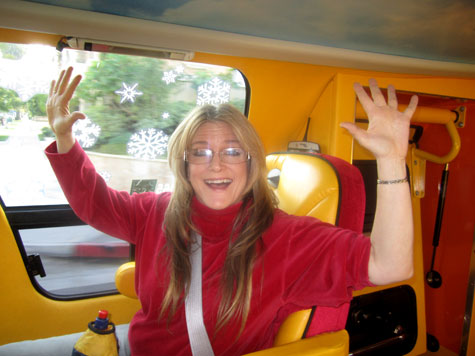 And we SO weren't the only ones. There were already some sightseers there, dying that not only were they at the Brady house but now the Wienermobile had entered the picture AND a real Brady emerged out of it!  Only God could have put a blessed tourist here at this moment.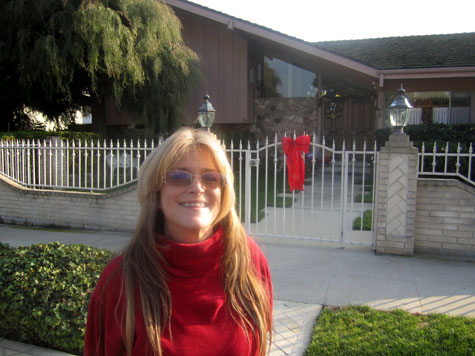 Needless to say, we took a lot of photos.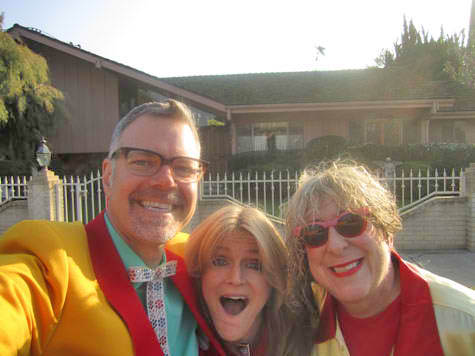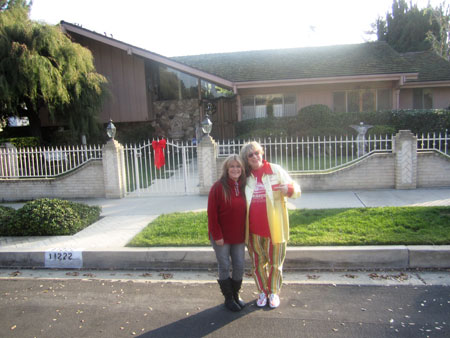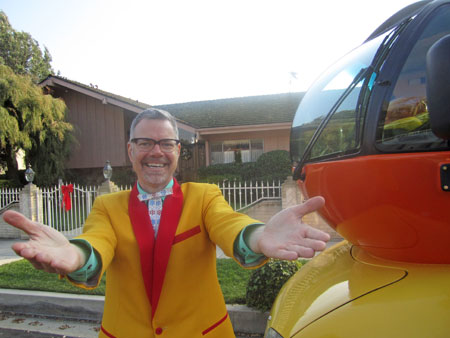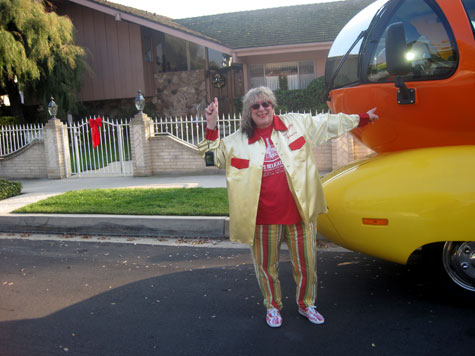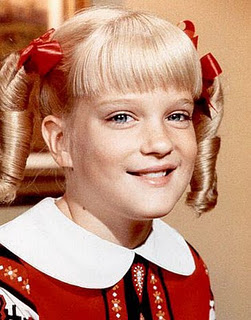 With Susan's 35 year identity crisis rectified, our Hotdoggers, Yoli and Tracy, told us we could drive around for as long as we wanted.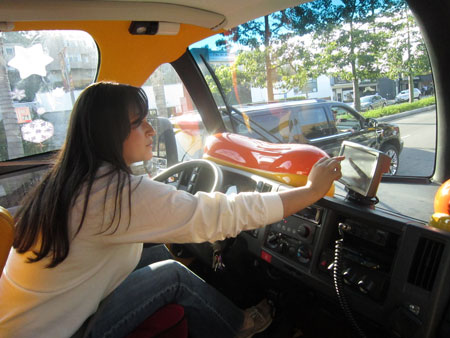 Elated, we immediately discussed iconic snack food related establishments in the immediate area to best frame us and the Wienermobile. First we headed to a hot dog,: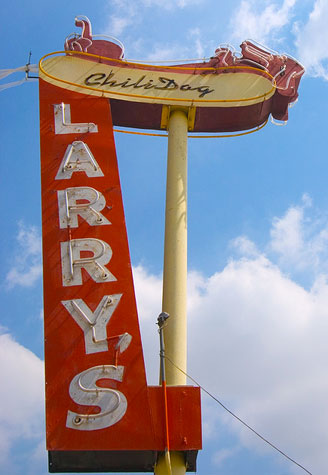 followed by some chili,…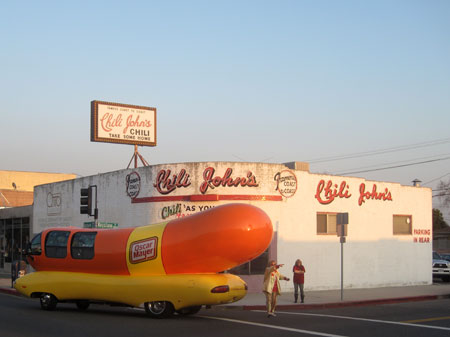 … a hamburger,…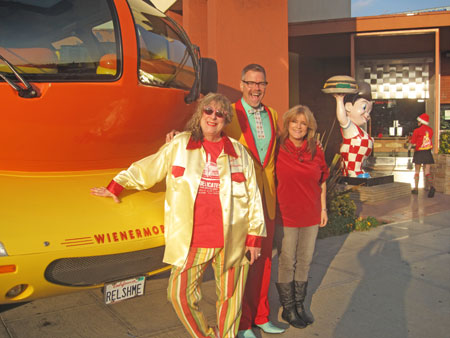 …and a little something to wash it all down with.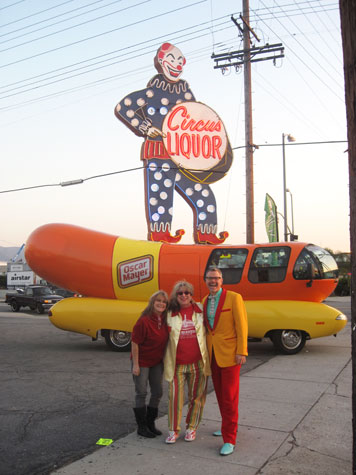 But, alas… I have Christmas shopping to do, three song deadlines to hit, an outline overdue for my new live show, a contract to read, a cat scratcher turntable to assemble, a portrait commission to paint, a bunch of publishing crap to get together, not to mention that I'm supposed to be on vacation in sunny Monterey. So Part 2 of our Wienermobile adventures will appear in a few days.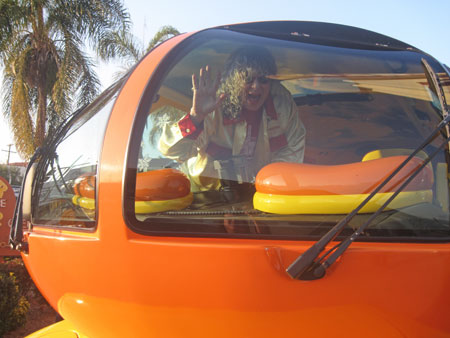 Until then, eat lots of hot dogs as you kick off the holiday season!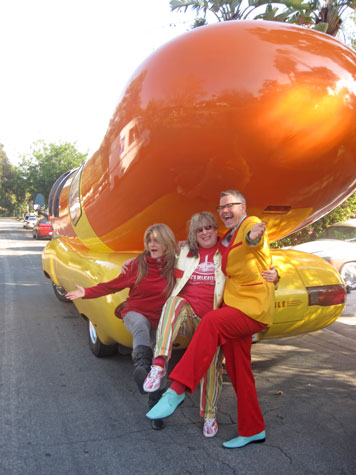 Proceed to Part 2