Okay folks, it's going to be wild. It ain't no normal show. From James Brown afro-picking out his bouffant in my bathroom to Beatles shoes – with appropriate hosiery of course – to tales of triumph and woe it's all going down Sunday night, July 12, at Beth Lapides' famed UnCabaret in downtown LA at the (insanely reasonably priced) benefit for "The D"/ Allee Willis Loves Detroit, the gargantuan more-multi's-than-were-ever-in-media happening that I've been working on for the past three years and counting.
It's one more chance to remind me of my own song lyrics as we sing-along to the hits, win valuable prizes, OD on candy, bone up on Detroit and witness one of the most ambitious undertakings anyone other than someone living in a sanitarium would undertake! Featuring a "sneak peak" (which my dictation originally wrote as "snake bite" which some may deem more appropriate), "sneak peak" at the almost finished "The D", performed by more people in history than have ever been on a record before, joined by a plethora of Detroit born stars like Mr. Mayer Hawthorne, who graced the Willis Wonderland grounds yesterday as we indulged in a Faygo Red Pop and Rock N Rye institutional D drink slug down: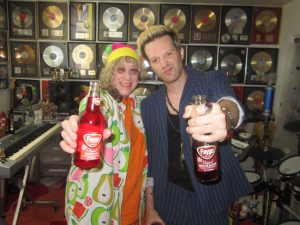 I might even do a repeat of my very first choreographed step as performed at the The Skirball Center a couple weeks ago. One might think you could not choreograph a number documenting Paul Simon's diminutive leg sliding into the vortex of a sushi volcano but that's just the kind of entertainment you get when you come to one of my shows!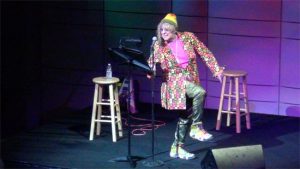 So please hit this link and come experience what I can safely say no one else in show business is quite creating while you show some love for the Motor City not to mention the valuable prizes you could leave with.
In one other spot of good news, the musical I co-wrote with the lovely Brenda Russell, Stephen Bray and Marsha Norman, The Color Purple, opens again on Broadway at the Bernard B. Jacobs Theatre December 10, previews beginning on my birthday November 10, faster than any musical has ever had a Broadway revival. Starring Jennifer Hudson, Danielle Brooks a.k.a. Taystee in Orange Is The New Black, and Cynthia Erivo, the brilliant actress who played Celie in London. Tickets for that go on sale June 30.
But first things first, The Color Allee in LA Sunday night, July 12, UnCabaret, TICKETS NOW PLEASE! Happily there are not many tickets left.
Detroitingly yours,
Allee