To the casual observer, "The Color Purple" on Broadway seemed like a cinch. The Alice Walker novel won the Pulitzer Prize. The 1985 Steven Spielberg movie grossed over $100 million domestically and garnered 11 Academy Award nominations. And the musical arrived on Broadway with Oprah Winfrey on its marquee as a producer.
But it was initially greeted with upturned noses by many Broadway powerbrokers. It tells the story of two sisters who have an unbreakable bond despite lives marred by rape, domestic abuse and poverty. Reviews were tepid. With fluffy offerings such as "Hairspray" and "Mamma Mia" dominating the Great White Way, some investors questioned whether audiences would embrace a musical based on such a gritty story.
What's more, some Broadway investors believed that an all-black cast with no name stars would have difficulty drawing the core theater audience any mega-musical needs to be financially sound: white, middle-age women. While Broadway is fairly healthy -- attendance jumped sharply last year -- regular ticket buyers remain a fairly limited bunch.
Today, producers of the $11 million musical version of "The Color Purple" plan to announce that the show has recouped its investment. The show's success demonstrates that Broadway can do a better job at attracting diverse audiences. It continues to do brisk business a year after its opening, and $7 million worth of tickets have already been sold for a satellite production set to open in Chicago in April. Padding the coffers: Blockbuster sales of themed merchandise. Patrons have bought $5 million worth of "The Color Purple" souvenirs, twice the merchandise sales of a typical show.
Broadway historically hasn't succeeded in drawing large African-American audiences. According to a League of American Theatres and Producers survey, fewer than 4% of ticket buyers are black. Even successful shows replete with African-American characters such as "Dreamgirls," "The Wiz" or "Bring in Da Noise, Bring in Da Funk" have attracted audiences that are less than 25% African-American, theater executives say. The only exceptions have been limited-run productions with celebrities, such as the 2004 revival of "A Raisin in the Sun," which starred rapper-actor Sean Combs, now known as Diddy.
As for the influential Ms. Winfrey: Contrary to public perception, her backing doesn't universally translate into commercial success. A well-publicized bid in 2003 to get viewers of her daytime talk show to read classic works of literature didn't give booksellers much of a boost. She soon abandoned the classics club and went back to more contemporary fiction selections. And Ms. Winfrey's backing of several ABC miniseries, including the recent "Their Eyes Were Watching God" starring Halle Berry, didn't deliver ratings success.
Using a range of creative marketing tactics, however, "The Color Purple" producers Scott Sanders and Roy Furman have proved the naysayers wrong. Indeed, "The Color Purple" audience is over 50% black, with some performances in the 80% range. "One of the big lessons here is that there is a huge and growing demand from African-Americans for more sophisticated entertainment options," says Mr. Sanders. "If we don't ignore them, they will come."
While Ms. Winfrey's backing -- she invested about $1 million and allowed Mr. Sanders to put her name above the show title -- has sold tickets, she doesn't do much work for the show. She is involved in none of its operations, and has devoted only two partial episodes to the musical. She rarely does press on its behalf, and declined a request for an interview for this article.
The strategy for selling the musical started in focus groups. Some participants were confused about how such a grim story could be turned into a musical, says Drew Hodges, founder of SpotCo, a theater-focused marketing and advertising agency. But other focus-group participants -- black women in particular -- balked at early plans to distance the musical from the movie. "It became clear that we needed to communicate that were treating this story with the proper respect," says Mr. Hodges. "People have an incredibly strong bond to this story, and we were surprised at how many people responded to the idea of sisterhood."
The resulting ad campaign was built around a central image of two black women playing patty-cake against a rich gold background. (A similar image was featured in Mr. Spielberg's movie.) The hand-slapping game helped communicate "movement and happiness," Mr. Sanders says, while the color was picked to signal that the show is "joyous and uplifting."
The producers also felt that the show's upbeat score, written by a trio of first-time Broadway composers and lyricists, could battle the perception that "The Color Purple" wasn't musical material. In a fairly unusual move, they sent a blast email to regular theatergoers that contained three songs in an MP3 format.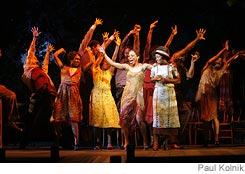 In the center, from left to right, Elisabeth Withers-Mendes (as Shug) and LaChanze (as Celie) in a scene from the hit Broadway musical 'The Color Purple.'
Messrs. Sanders and Furman have worked to target first-time theatergoers, starting with ticket pricing. While charging $115 for premium seats, the show reserves large portions of the 1,718-seat theater for tickets priced as low as $25. "We realize that we're giving up a lot of potential money, but lower-priced tickets were crucial," says Mr. Furman. "We wanted to attract people who were familiar with the story from the movie, but who might balk at paying a conventional Broadway ticket price."
The pair also made a big effort to reach out to newcomers to New York City. The show's Web site allows people to book hotel rooms at the same time they buy tickets and includes detailed tips on how to hail a cab and where to eat near the theater. The Web site also tries to dispel some the myths of Broadway. A question and answer section, for example, tackles what to wear. "Is there a dress code? Don't worry: Formal attire isn't required."
Among the other marketing tactics: promotional partnerships with Colgate-Palmolive Co., Visa USA Inc. and Federated Department Stores Inc.'s Macy's; advertising in smaller neighborhood publications and newsletters usually ignored by Broadway; and targeting church choirs in African-American communities for group ticket sales.
Write to Brooks Barnes at brooks.barnes@wsj.com1
Corrections & Amplifications
Oprah Winfrey's 2005 ABC movie "Their Eyes Were Watching God" attracted more than 10 million young adult viewers. This article incorrectly said the movie wasn't a ratings success.