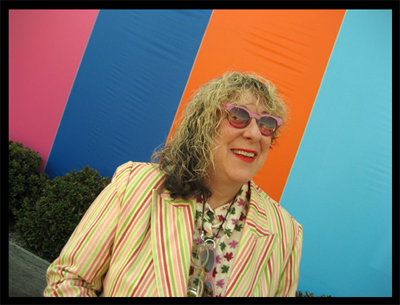 She is a force of nature; a fervent tastemaker, a celebrated party hostess, a champion of high- and low-brow culture, a visual artist, a digital pioneer, and not insignificantly, an award-winning songwriter with over 500 covers. Those include such iconic hits as "I'll Be There for You," the theme for Friends; Earth Wind & Fire's "Boogie Wonderland," and "Neutron Dance" by the Pointer Sisters. She added Broadway to her credits as one of three songwriters creating music for the Grammy- and Tony-nominated musical, The Color Purple. Willis also contributed seven of her classic Earth, Wind & Fire hits to the EWF-themed "jukebox" musical Hot Feet, which helped her make Broadway history as the first woman — and only fifth person ever –– to have written music for two shows opening on the Great White Way in the same season — a distinction she shares with George Gershwin, George M. Cohan, Irving Berlin and Marvin Hamlisch.
"I have this weird thing — having mainstream hits, but always func-tioning on the outside," says Willis.
Although her songs are classics, Willis has taken periodic sabbaticals from songwriting. "If I hear a melody I'm also seeing colors, shapes, scenes, textures, layers on a digital document. It gets very confining when I'm brought in only for music, or worse, on lyrics. That gets frustrating."
The Color Purple was Willis' first experience in writing for Broadway. "It's very different from writing pop songs," she admits. "I love doing things I've never done before, because it's all brand new. It's terrifying and nauseating, but exciting at the same time. The medium is popular for a reason. You need to know all the rules before you know which ones to break. What will get you cremated by critics and the audience is if you don't have a perfect rhyme. That's like fingers on a chalkboard." And rhyming the singular "heard" with the plural "words" was one such transgression. "The real die hards pointed that out," says Willis. "Depending on the position in the musical (a song) has to serve a certain function. To an audience who goes to the theater all of the time, they get out of it what they need to solve the puzzle. They're active collaborators as well. It's an incredibly interactive media."
Last fall Willis debuted a live musical/visual/lifestyle extravaganza titled "Bubbles & Cheesecake" in tandem with vocalist Holly Palmer. The duo's first video, "It's a Woman Thang," exploded on YouTube with close to 1 million. Willis says that creating the eye-popping visuals literally caused a Macintosh G5 to begin emitting smoke. This concept will now be reconfigured as "Bubbles and …" allowing for additional collaborators. "If that works it would be great — there's my freedom," Willis clarifies.
Willis is from Detroit where she learned the latest hits from hanging outside of Motown studios as a teenager. She moved to L.A. from New York where she had launched her career as a songwriter. "I said, 'If I'm going to be a songwriter I'm going to do it in the sunshine.' And I was always fascinated with Hollywood."
Fascinated and fascinating: Willis' creative universe is overflowing with light, color, sound and innovation. "I live with things from the past and I dress that way, but I hate that word 'retro' — that was invented by someone who owned a store and made reproductions. My thing is about taking the best from the past, putting it with the most inventive stuff, and moving forward."