Whatchoo talkin' bout Willis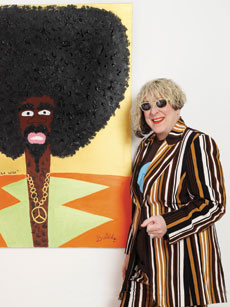 The colorful life of multi-media mega talent Allee Willis
BY LENORA CLAIRE
Some journalists might raise an eyebrow to having their subject produce their own recording device and photographer to document the occasion, but one can only expect as much when interviewing the obsessive as she is creative, Grammy-winning, Tony- and Emmy-nominated composer Allee Willis. Dressed in all the colors of the Skittles rainbow and sporting her trademark bi-level haircut, I was treated to a tour of the artist's magnificent pink San Fernando Valley palace known as the Willis Wonderland.
Designed in 1937 by architect William Kelsing as an official party house for MGM, Willis has continued the tradition by throwing infamous Fellini-esque soirees attended by everyone from Bette Midler, Elvira, and Lily Tomlin to Barry Manilow. If you haven't been lucky enough to attend one of her themed events such as her "Borscht Belt Birthday Party" you can still join in on all the fun by visiting www.alleewillis.com where years worth of well-documented party pictures reside among her jaw dropping list of credits, music, and merchandise.
After touring the kitsch lovers paradise taking time to admire treasures such as original art from the Brown Derby restaurant that surrounds a vintage dining booth to the world's largest collection of afro picks, we took a moment to come up for air and went outside to see the pool surrounded by a private sand beach, bowling ball garden, and other '50s-style atomic accoutrements. A portion of which had been acquired as partial payment while Willis was the set designer on the will-somebody-please-release-it-on-DVD Just Say Julie on MTV.
While one could easily get lost in her thrift store treasures, from an historical viewpoint the most impressive room in the house would have to be the state-of-the-art recording studio and multimedia production facility James Brown once called his favorite in L.A. Having already penned hits such as Earth, Wind, & Fire's "September" and "Boogie Wonderland" prior to moving in, it's likely the atomic aesthetic of the house inspired Willis to write the ubiquitous '80s hit Neutron Dance for the Pointer Sisters. It's also easy to surmise that the group of artists and eccentrics that flock to her parties served as the inspiration for the Emmy-nominated number one hit "I'll Be There For You" from Friends, but not the Pet Shop Boys and Dusty Springfield track "What Have I Done to Deserve This," both of which were also written in that room.
When not working as a celebrated "rock doc" for artists such as Bob Dylan and Herbie Hancock, writing columns for Details magazine, discovering miniskirt megastars the Del Rubio Triplets, and winning a Grammy for the Beverly Hills Cop soundtrack, Willis somehow found the time to build yet another career and develop an impressive cult following through her alter ego Bubbles the artist. Known for her whimsical style, Bubbles paintings, ceramics, and kinetic sculptures can be found in the hottest galleries and private collections around town.
Never content to master any single genre Bubbles has recently teamed with Cheesecake aka singer-songwriter Holly Palmer (Gnarls Barkley, David Bowie, Dr. Dre) to create the ultimate interactive art project Bubbles and Cheesecake. Featuring music, video, artwork, stories, animation, social networking features, and unique merchandise, their recently launched domain www.bubblesandcheesecake.com features music as infectious as any of her other tunes that have now sold over 50 million records, but with a unique twist the ladies call "soul kitsch".
Also created by Allee and fellow songwriters Brenda Russell and Steven Bray at the Willis Wonderland was the score for the Broadway musical, Oprah Winfrey presents The Color Purple. The show makes its way to the L.A.'s Ahmanson Theatre Dec. 13-March 9. "I think people are expecting this kind of gloom and doom thing, but it's a musical comedy which nobody expects from The Color Purple. By the end of the show everyone is laughing and crying. It's an incredibly triumphant story," Willis reveals. Since everyone in Oprah's orbit seems to be getting a TV or radio program, perhaps Allee is the next in line. After all, she comes prepared with her own camera.
For more information on Willis, visit www.alleewillis.com. For tickets and more information on The Color Purple, visit www.centertheatregroup.org or call (213) 972-4400.


© 2007 IN Los Angeles Magazine. All Rights Reserved