<![if !vml]>

<![endif]>
Entries from October 21, 2007 - October 27, 2007
Bubbles & Cheesecake and a Whole Lot of Champagne!
<![if !vml]>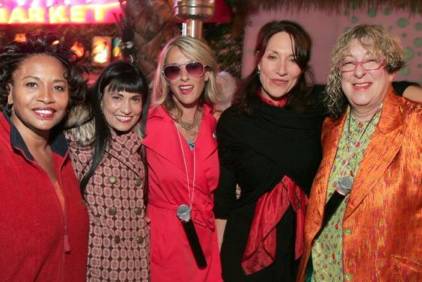 <![endif]>
(L-R) Jenifer Lewis, Nancye Fergeson, Cheesecake aka Holly Palmer,
Katey Sagal, Bubbles aka Allee Willis


<![endif]> If you missed the Bubbles & Cheesecake party last week, you really missed out. From the colorful decor to the wild music, this was a party to remember. Relaxed, fun, silly, everything that encompasses the two divas of Bubbles & Cheesecake was represented at this event. But if you didn't make the party, be sure to check out the CD at http://bubblesandcheesecake.com/.
Posted on Friday, October 26, 2007 at 01:30PM