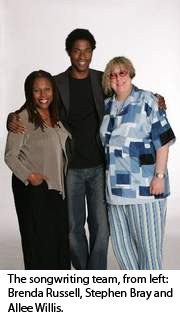 May 15, 2008
2 former Detroiters wrote songs for show
That woman sitting next to you mouthing the words to the songs might be one of the loyal fans of "The Color Purple." Or it might be music and visual artist Allee Willis, home to watch with family and friends the show that she helped launch.
Willis is not the only Motown connection to this musical adaptation of the Alice Walker novel. Stephen Bray, who shares composing credits with Willis and Brenda Russell, was born and raised in Detroit and worked as a drummer in countless area clubs.
"This was the true college of musical knowledge," says Bray, who attended Detroit's Lutheran High School West. "Between 1975 and 1980, I think I played with various top 40 bands in every bar and tavern in Michigan."
It wasn't until moving to New York, however, that his career took off with the help of another native Michigander, Madonna. He had met her while waiting tables in Ann Arbor.
"It was a Wednesday night, and I think she was giving hustle lessons. I knew right away that this was a girl I wanted to talk to," Bray remembers.
The two collaborated on several hit records ("Express Yourself," "Into the Groove," "True Blue") throughout the 1980s before Bray went on to his own projects as a musician, songwriter and producer.
It was while shooting a music video that he met Willis, a visual artist and songwriter who graduated from Mumford High School in Detroit before going on to pen songs like "September" and "Boogie Wonderland" for Earth, Wind and Fire and "I'll Be There for You," the theme song from TV's "Friends."
She considered Bray a perfect addition to the songwriting team for "The Color Purple," which required the right mix of gospel, soul, jazz and pop.
"My family was crazy for musicals," Bray remembers. "If we had iPods back then, mine would have had 'Jesus Christ Superstar,' 'Camelot,' 'My Fair Lady' and 'Golden Boy.' These were always on the turntable. So while I was obsessed with musical theater, I didn't know the first thing about writing for it. I bought every book on the shelf."
The songwriting trio did most of their writing in Willis' Hollywood home, decorated in the powder blue and burgundy color scheme that she still associates with her days at Mumford. "These have been my signature colors ever since," she says.
Bray says he paid special attention to the male characters in the show, especially Mister, Celie's abusive husband. He consulted regularly with writer Walker about ways to flesh out Mister's son Harpo, who Bray says "represents 'the new man' breaking from that patriarchal pattern of abuse and oppression."
Both Bray and Willis credit their Detroit upbringings as a big part of their musical inspiration. Both were addicted to Detroit radio as kids, especially CKLW and Martha Jean (the Queen) Steinberg.
Willis remembers camping outside Motown's headquarters on West Grand Boulevard "just to see who might be walking through the door that day."
No matter what style she is working in, Willis says, "everything I write comes from that place."
BY JOHN MONAGHAN, FREE PRESS SPECIAL WRITER