.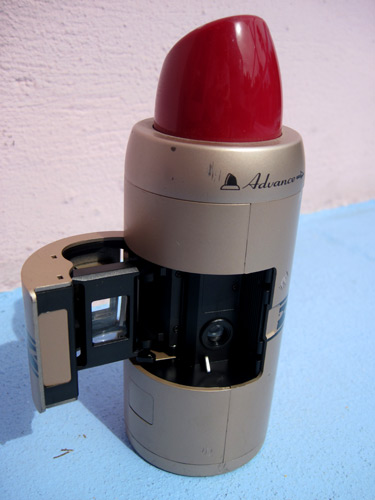 Anyone who knows me knows that there are two things I never leave home without, my lipstick and my camera. I always carry at least two of each; my lipstick because I'm forever losing tubes in the bottomless pits of my purses, and cameras because you never know what will pop up in front of you and you don't want to be without some way of capturing it should one photographic device malfunction. Not that I take it with me anymore, but a constant companion in my former years was this great looking, incredibly clunky Lipstick Camera, much more effective for its mental effect on the people it was shooting – they always smile when they see it – than for the grainy, patchy photos it took. Last night when I started writing my blog, where I like to tie in objects from my collection into what's really going on in my life, the Lipstick Camera seemed like the perfect artifact to feature as I was on my way to a party for famed photographer and friend, Greg Gorman, honoring his 1970 – 2010 retrospective at The Fahey/Klein Gallery. As one who likes to match clothes and accessories to the event, I even thought about bringing the Lipstick Camera with me. But I knew I'd be seeing too many old friends and didn't want to capture all of it with crappy photos.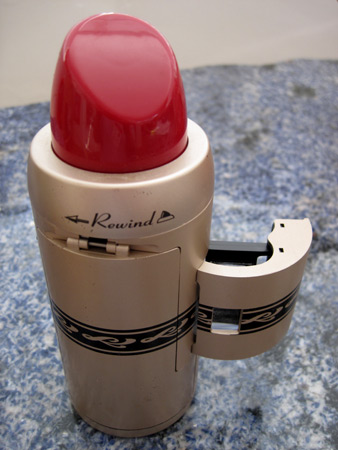 I first met Greg Gorman when I moved to LA in 1976. He was the up and coming photographer to the stars and my friends, Bette Midler's Harlettes, already back in New York, asked me to pick up some proof sheets from their photo session with him. He was really friendly and as I walked out of his tiny apartment on Laurel Canyon I remember thinking how great it would be to take photos of everything I saw that was interesting or significant to me so I would have this incredible documentation of my life. That began my habit of forever buying cheap novelty cameras as I was forever on a budget. Meaning most of the documenting I did until I stumbled on my first Canon Elph in 1996 made for some very grainy memories. Even when I knew where to buy film for the Lipstick Camera, the photos it took were pretty awful. But as someone who loves to play it as it lays, there was also always something so soulful about them.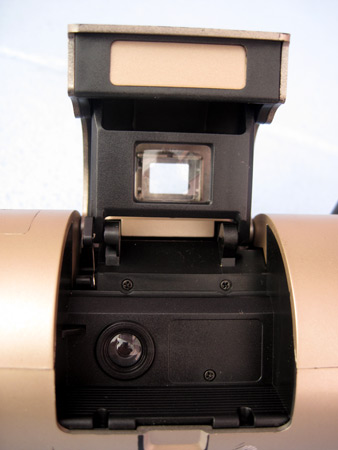 When I started making furniture out of found objects in 1984, Greg Gorman was one of the first people to buy a piece. I know it's embarrassing to show this fuzzy of a photo of a famous photographer but all I had with me the day I delivered his table made out of a window from a World War II fighter bomber plane I painted on and a spring from my 1955 De Soto was one of my cheap, nasty cameras.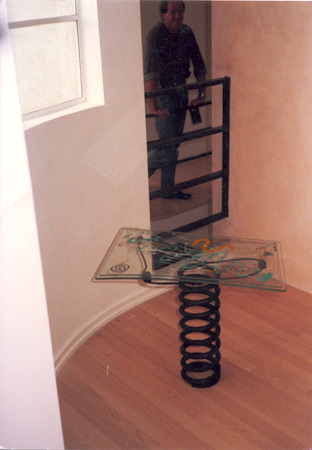 A few months after that, Greg shot actor Christopher Atkins at my house. The white throw draped across my couch is Chris.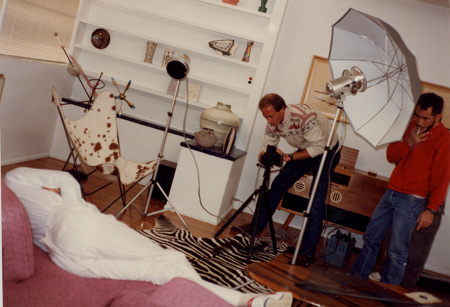 Here's a much more flattering shot of him that Greg took that day.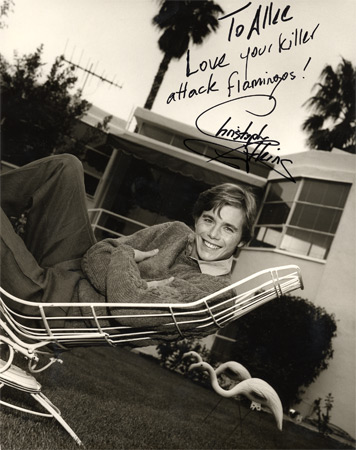 And here's a much more recent shot of Greg, taken last night at his reception. Unfortunately, we were standing in front of the only section of the gallery where his photos weren't hanging.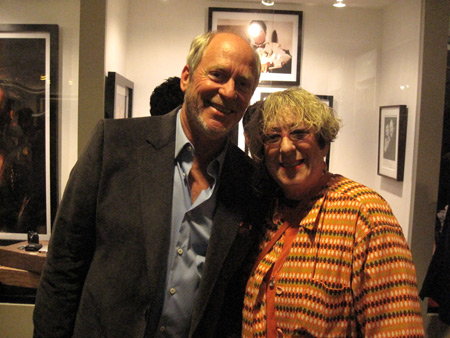 Just as unfortunately, when I opened my photos once I got home, all of them were so pixelated they looked like a can of vegetable soup had spilled on them. It was as if they were taken on the Lipstick Camera, not the most ideal situation when you're capturing you and one of the most iconic celebrity photographers of all time. If I had had half a brain cell awake in my brain last night I would have checked the settings on the Elph every time whoever was taking the photo said, "did the flash go off?" because it never did. Each and every time I said to myself, "hmmm,why isn't the flash going off?", only to get distracted by someone else I hadn't seen in a zillion years until a few minutes later the same thing happened and I would say to myself, "hmmm,why isn't the flash going off?".
So what I have are a bunch of grainy, yet totally evocative of the evening photos. And here's where my love of kitsch kicks in, allowing me to make sense of these moments of catastrophe. Had my Elph been on the right setting I would have had beautiful photos of people I saw at a photographer's opening to feature in a post about a funny looking vintage camera. But now I have photos that look like they were taken with the Lipstick Camera itself! It's so cosmic, so organic! And it's these collisions of high and low art in the manifestations of my creative expression that I absolutely live for.
So knowing that I know that these photos look like they were pulled out of a landfill, here's me with some other friends I bumped into last night. This one with my Earth, Wind & Fire compadre, Verdine White, and his fantastic wife Shelly, who I'd just seen last week at the life altering Earth, Wind & Fire(works) concert at The Hollywood Bowl, looks like it's one of those early Polaroid color camera shots that you slopped that stick of goop on.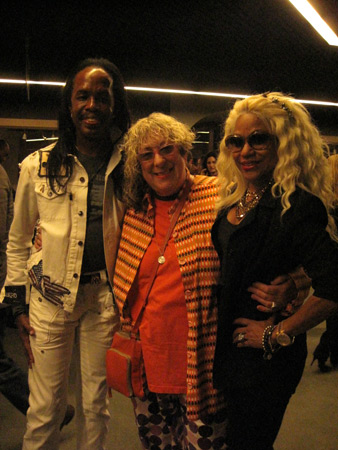 This one with Warhol superstar Holly Woodlawn looks like it's a still from an airport scene in a way too low-budget 1970's movie.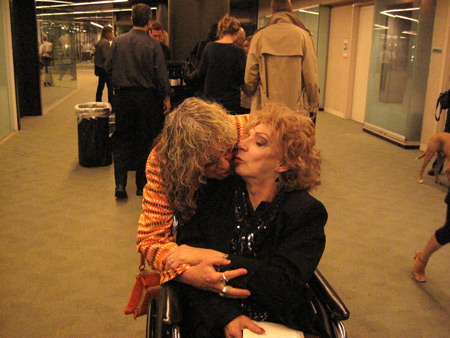 This one with John Fleck and Stan Zimmerman almost looks normal but that's probably because the boys have such good skin. Were you to see this at high resolution my hair looks like it has ants running through it.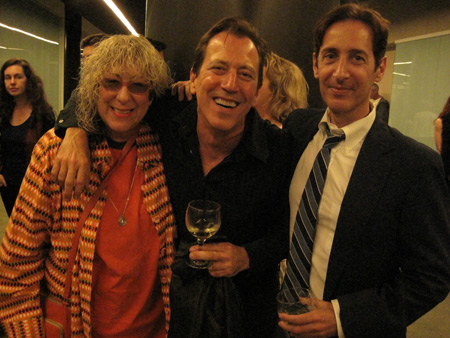 This one with Ken Page is almost okay as it was taken in a particularly bright hallway.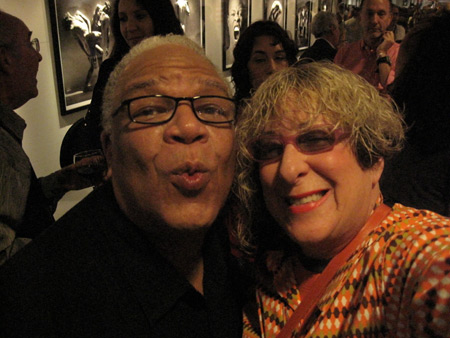 So what, I will never be able to blow any of my photos from last night up into giant super graphics and paste them on the side of my house. But I'm incredibly artistically and psychically satisfied that so glued to my fingers is my trusty Canon Elph that it took it upon itself to emulate the Lipstick Camera and give me crappy yet perfect photos to remember a wonderful night by.