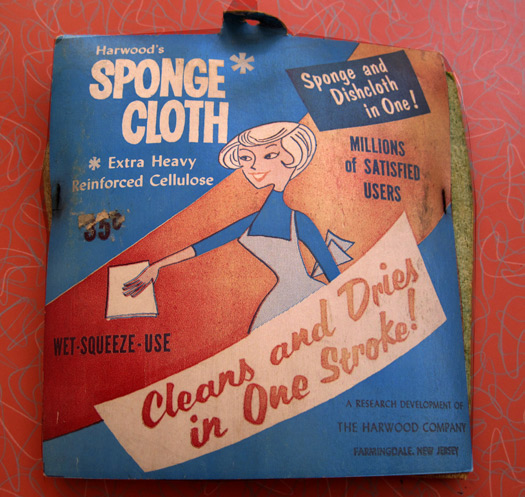 Long before Mr. Clean and Magic Sponge promised fewer steps and happy housewives came Harwood's Sponge Cloth, one of many modern miracle kitchen products offered for the first time in history in the post-war Atomic Age to ladies of the kitchen. As chemicals developed for warfare or space travel like Teflon were trickling down to pots and pans, linoleum floors and kitchen counters, the Sponge Cloth promised to be a "Sponge and Dishcloth in One!" that "Cleans and Dries in One Stroke!" "Wet•squeeze•use" and for 35¢ lives were changed because now there was more time to run into the next room and enjoy the revolution happening in the living room, television.
I'm always completely intrigued by people who develop a supposedly revolutionary product and then come up with a name like "Sponge Cloth". Like a wad of mud sliding down the wall of creativity until it hits zero. Smash! A direct hit on the head of the mundane.
I'm sure it's true that "Millions of Satisfied Users" lost muscle mass because of the minimal arm movement involved in operating the Sponge Cloth.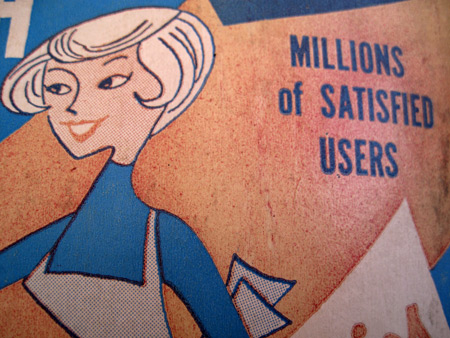 I just hope it cleaned better than it aged: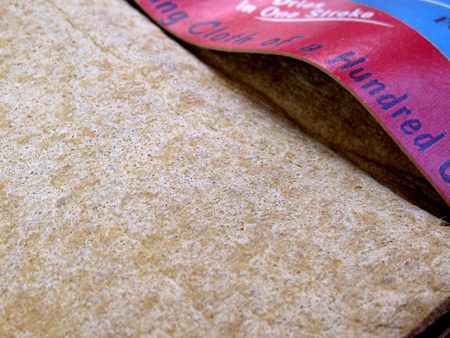 The photo actually makes the Sponge Cloth look like a normal scouring pad but in reality it looks much more like stale matzoh or a piece of insulation than it does either a sponge or a cloth.
I always love when a product refers to itself as "amazing" and promises HUNDREDS of uses or, in the case of the Sponge Cloth, "a Hundred Uses" on the nose.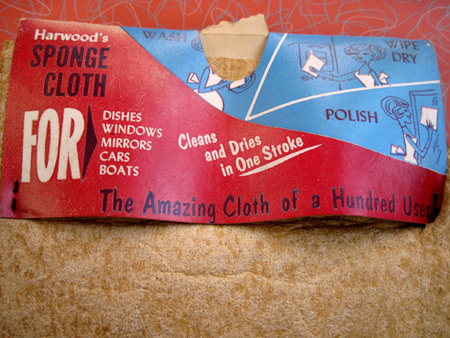 Does that mean that the Sponge Cloth can be used 100 times or are there 100 different ways to use it? If the latter, The Harwood Company of Farmingdale, New Jersey could have gotten a little more imaginative on the big three than 'wash', 'wipe dry' and 'polish'. But, then again, it's the Sponge Cloth. Same guy working on the art direction as the name.
As much as I disparage the Sponge Cloth, if it really was a cloth that cleaned and dried in one stroke I wish I had found a case of them instead of just one. And didn't wait 60 years to use them.