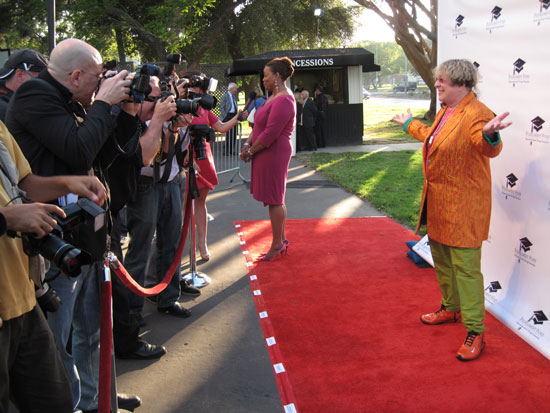 Well, it only took close the four decades for me not to be stage fright and have absolutely one of the best nights of my life when I sang and told stories about the songs I'd written live on stage Monday night at The Songs Of Our Lives concert to benefit the Fulfillment Fund. After being hung up about performing ever since I walked off stage after only six songs in 1974, to say I'm ready to come back is an understatement!!  Well, in relatively small doses but I'm willing to try. Thank you SO MUCH, Charlie Fox, for insisting I perform. I feel like a massive weight has lifted and I'm very excited to see the shift that's going to occur in my never-ending rollout of what I'm going to do next.
As if that massive psychological breakthrough of being terrified and forgetting very word in my head wasn't enough, I got to experience three incredible hours of sound check and four incredible hours of performances by some of the most legendary songwriters on the planet. I've long cherished songwriters' versions of their own songs over the records made of them. If you've never had a chance to hear a songwriter sing one of your favorite songs you're missing out on a truly soulful experience. Regardless of whether their voices are as powerful as the artists who made the records, the deliveries are so authentic and heartfelt you could die. Not only do you get the power of the song but the intention with which it was written. All I did was swoon for seven hours, and having my own performance thrown in there with the bonus of having an  absolutely insanely wonderful time on stage –  how can I even be saying those words??!? –  this experience was seriously was one of the best gifts I've ever been given.
It was the first time ever outside of a friend or two's living room that I sang "September", "Boogie Wonderland", "Neutron Dance", and "I'll Be There for You (theme from Friends)" in public. I nipped one previous mental saboteur in the butt by carrying out a fistful of lyrics so I didn't have to panic about forgetting the words.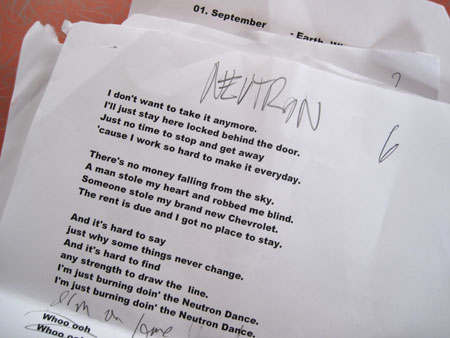 A huge epiphany: The difference of singing songs that everyone in the audience knows from singing the first ten songs you ever wrote that no one in the audience has even heard of, which was the case in 1974, is massive. It gave me confidence that I never knew as a singer before.  Added to it was that this was an audience who truly appreciated songwriters, and hearing the stories behind the songs was what they were there for. And if there's one thing this blog has finally hammered into my brain, I'm a good storyteller.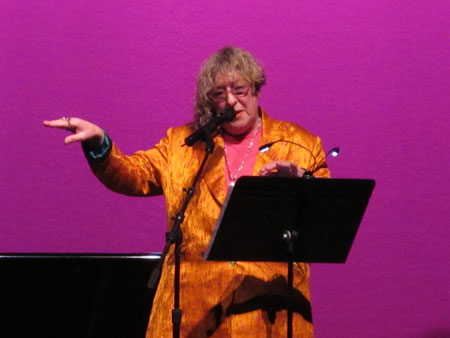 Of course, now I'm kicking myself that I didn't tell everyone I know to come. I knew that would make me more nervous and I really accepted the gig to try and get over this hideous weight of stage fright. So I only told those absolutely closest to me, and was very relieved when most of them had conflicts for the evening as Michele Obama was in town and they were going to a dinner for her. But the party faithful were here. L-R- me, Nancye Ferguson, Prudence Fenton, and Laura Grover.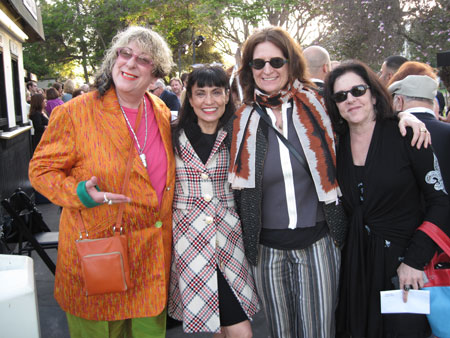 Mark Blackwell trailed me on video, a routine we have worked out to a science by now, as Bob Garrett arrived.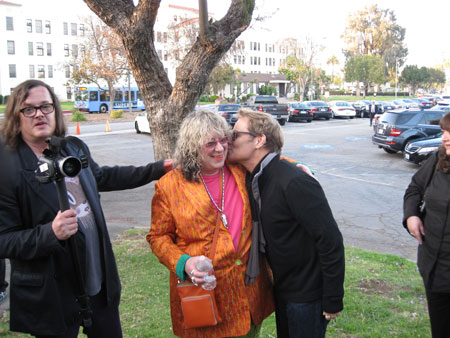 I shared a dressing room with legendary jazz singer, Dianne Reeves. How I blanked on taking a photo with my fellow Detroiter I don't know, but at least I got the shot of our dressing room door.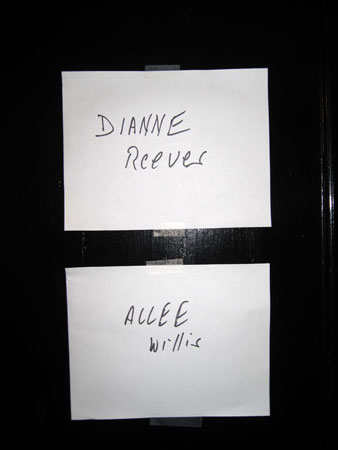 There were also a ton of legendary producers and players in the audience, not the least of whom was Michael Boddicker, probably the most lauded synth player who's ever lived. Like he played on every Michael Jackson record and a trillion other classics.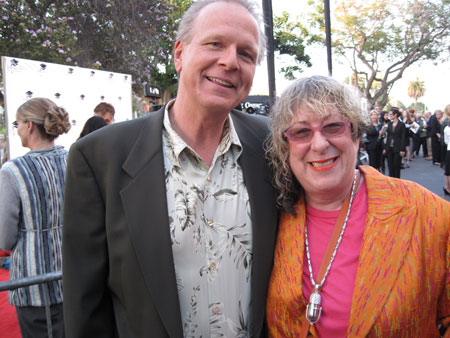 Michael always tells the story of one time we worked together and I was trying to describe a particular sound I wanted him to make on a duet between Herb Alpert and Lani Hall, who I wrote for and produced in 1981. Now I make no secret that I know absolutely nothing about music other than how to write a great song. I couldn't tell you the definition of a specific music term like measure, adagio or anything. But for a player who's excessively visual – and trust me, in those days there weren't a whole lot of them – describing the sound I wanted as "a ping-pong ball being crushed underneath a seagull's wing" was perfectly clear to Boddicker.
Right before I went on I did some major bonding with the evening's emcee, Tony Danza.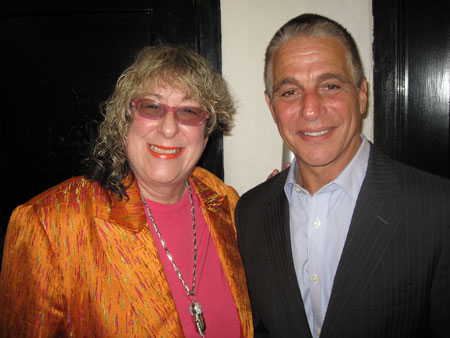 I'd never met him before but he knew I was nervous and not only was a very encouraging daddy backstage but gave me a great set up line when I walked out so I could talk about the lunchroom debacle and why I had shunned doing anything on stage ever since. It got an immediate laugh, which was like a Valium rolling down my throat, and I was on my way.
But it was the songwriters themselves who made the evening shine most. Jeff Barry went on right after me.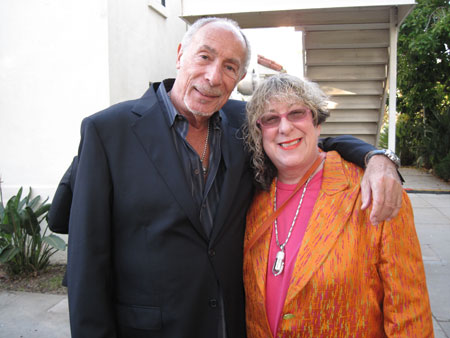 Here are just a few of Jeff's gems: "Da Doo Run Run", "Doo Wah Diddy Diddy", "Then He Kissed Me", "Be My Baby", "Baby I Love You", "Tell Laura I Love Her", "Chapel of Love", "Iko Iko", "Remember (Walkin' In The Sand)", "Leader of the Pack", "River Deep, Mountain High", "I Can Hear Music", "Montego Bay", "I Honestly Love You",and "Sugar Sugar". Not to mention the theme from The Jeffersons, "Movin' On Up", my favorite TV theme song (next to, of course, Friends). And literally, those are just a few of them.
Someone I had never met before but whose songs I always loved and who is sure to become a great friend now was David Pack.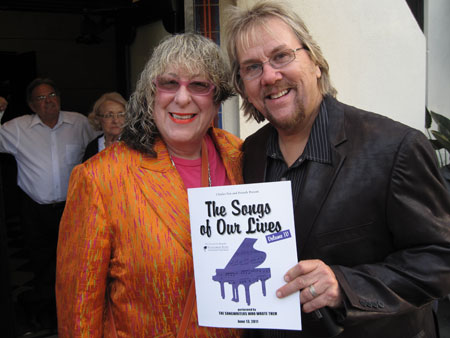 He had/has one of those killer voices that made the songs he wrote for his group, Ambrosia, have that classic ring. Last night he sang "You're the Biggest Part of Me", "You're the Only Woman", "Holdin' On To Yesterday", and "How Much I Feel".
But the guy who put me over the top even more than those pillars of masterful songwriting was Felix Cavaliere, writer and lead singer for The Rascals.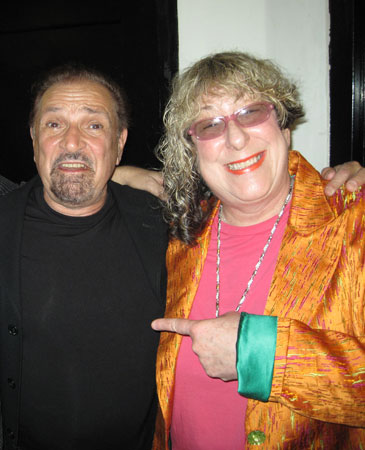 How do you write a song as classic as "Groovin"?! And "It's a Beautiful Morning" and "People Got to Be Free"?! Felix was the first writer to do a sound check when I arrived in the afternoon. They didn't have most of the mics set up yet so I got to hear that most incredible "Groovin'" bass line, probably one of the most used and imitated in the history of music, over and over again. I literally was sitting there with tears dripping down my face it was so exciting for me as a songwriter to be in the presence of such greatness. That we became fast and thick friends backstage only added to my joy.
Thank you, Chris Price, for accompanying me. You were PERFECT!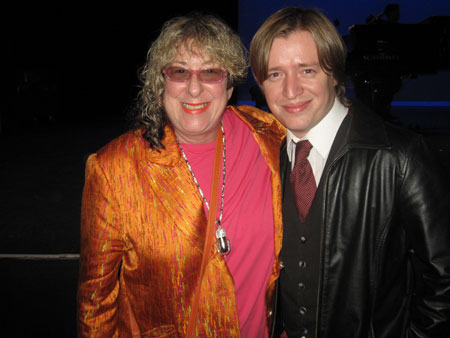 So, all in all it was a pretty classic day and night for me. I can't believe I wasted all these years being nauseous at the thought of doing anything like this. But I'm back and that's all that's important.