Limited edition prints of five of Bubbles most popular painting enhance with paint and found objects by Allee Willis.
Printed on coarse grain canvas mounted on Masonite, hand embellished and framed.
Available in sizes from 4″x6″ to 24″x36″. (Sizes are of canvas without frame.)
If the canvas you want is sold, you can commission another one in its likeness. Specific materials and frames subject to availability and size though efforts will be made to incorporate anything you like other paintings in the series into your commission.


I had three goals for Bubbles when we started working together in 1999. First, for her to sell a lot of paintings. Which she did, over 1000 of them. Second, to make them affordable enough that almost anyone could own one. Initially paintings started at $50. Over the next few years some of them rose as high as $4000. Third, to find a way to justify low prices because for the amount of time it took to make each painting Bubbles would need a second job to make ends meet. So we decided to only sell copies of the original painting, each and every stroke handpainted, while we retained the right to reproduce the image in more paintings or ceramics. These copies not only were a way of people getting actual handpainted art but by retaining the masters Bubbles could rephotograph and reuse any part of a painting in any manner of creative expression in whatever medium whenever she pleased. So a single image not only accrued a decent wage over time but her patrons' investments rose in value every time a copy of their painting sold as each successive piece rose in price. This worked well for many years. There are, for example,37 Mr.Wah Wahs and 12 "Mr. Issac Hayes" with the actual Mr. Isaac Hayes proud owner #7. It also made it much more interesting for me as Bubbles' manager and coped-to-as-of-late alter-ego that I could digitize the paintings, cut them apart and create a whole world with the characters, props, backgrounds and textures, especially when combined with the musical assets I created over the years.
I'd been on the internet since 1991, evangelizing about its social and distribution assets a decade before the rest of the world swallowed the pill. Bubbles and I loved creating physical art but even the copy paintings took forever and nothing could deflect the fact that we were working in a linear medium, not so interesting to me, and that sometimes she/I was making less than minimum wage an hour selling these things. The ceramics were even worse. They took three times as long – 3 separate coats, none of which could touch each other or the colors would bleed – and had to be sold cheaper than the paintings as people realize paintings are Art but a plate or bowl is part of the eating experience. All this led to the relatively easy decision to insist Bubbles take a sabbatical two years into my co-writing The Color Purple musical from 2001 to 2005. The intention was always that once the show opened on Broadway Bubbles would spring back with her series of paintings, "The Making Of 'The Color Purple'", as she really was the only other person in the room while I wrote it with Marsha Norman, Stephen Bray, Oprah Winfrey, Brenda Russell, Allee Willis. But after two years off, Bubbles was reallllly bored at the idea of trying to nail an image she had painted years ago yet another 37 times so she called it quits. I couldn't do much to encourage her otherwise as I hadn't been interested in interpreting my ideas exclusively in any single medium since 1983 when I picked up a paintbrush after the monotony of writing enough songs to get 100 records cut a year left me numb. It wasn't until mid 2006 when I was writing my first non Purple song in years with Holly Palmer that Holly suggested I sing, no, that Bubbles sing with her, no, her alter-ego whose name just happened to be Cheesecake – Bubbles & Cheesecake! The name alone was enough to end the sabbatical.
So Bubbles was bubbling again, this time singing, painting and animating. The first music video we made together, Bubbles & Cheesecake's It's A Woman Thang, exploded on YouTube and was an Official Honoree in the 2008 Webby Awards. It was apparent to me that the videos are a natural extension into the digital realm of the motorized pieces I used to make. My art, which I made from 1983 to 1992, was dense and and three dimensional whereas Bubbles' work is simple and flat. My work was large, cumbersome and had me relying on mechanics and carpenters to complete it. Bubbles had none of these logistic or personnel headaches. So I was drawn to working with her. But neither of us ever thought about actually painting together let alone having an exhibition. All we knew was that Bubbles was bored of painting from scratch where it was more about nailing what she'd captured in the original painting than inspiration and I missed the sheer act of physically painting, hands covered in paint, the biggest problem being keeping the brushes clean as opposed to equipment and software failures and limitations that are part of the fabric of digital art. And then it finally hit me as I worked on the final cut of "Editing Is Cool", the second and just released Bubbles & Cheesecake video, which is about the necessity of editing ones own life as you would a song or video – cut out all the bad parts and rearrange the good until you have something that works. I had thought about printing the art on canvas before but prints I'd seen never had the oomph of the originals. But anything was worth a try so we sludged through test print after test print of five of Bubbles' most popular images until the canvases exploded with the Technicolorish hues that Bubbles adores. Like most artists who customize canvas prints of their work, a few well placed paint strokes and you're done seemed like the perfect solution to our time problems as well as assuring that the basic image was a 100% replica of the original. But in reality, as soon as I started painting and applying found objects to the prints I realized that each had its own distinct personality and screamed to be uniquely customized down to the frame treatment. So these Print Paintings became way more than canvas prints with a dab of distinction here and there. They're full blown collaborations between Bubbles and Allee and we are both extremely pleased at the results.
When you order one of our Print Paintings you just choose which series and what size you want. You can tell us specifics that you like in any of the other paintings in that series and I/we will make every effort to incorporate them when enhancing your one of a kind commission copy. But the bottom line is materials aren't always available and we don't want to fall into the same trap of knocking out the same piece over and over again. So know that the artistic choices are ultimately at our discretion but we will make every effort to make you and your walls happy!
Yours,
Allee Willis, speaking on behalf of herself and Bubbles the artist.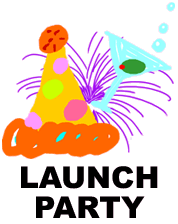 "Burt With DollyWood"