October 5, 2018
WOW!! Just learned that "SEPTEMBER" is back in the TOP 10 on the Billboard R&B/HIP HOP downloads chart!!! It's literally #1 this week and has been on the charts for 4 weeks! That's unheard of for a record by the original artist – Earth, Wind & Fire – to enter the charts again, let alone to top one, after 40 years but there it is right in the company of Eminem, Drake, Kanye West, and DJ Khaled. I've always said that #September, my very first hit, co-written with Maurice White and Al McKay, has a life of its own but this is CRAAAAAZY!!!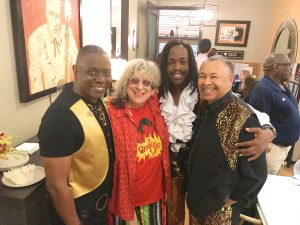 This shot with Verdine White, Phillip Bailey and Ralph Johnson, original and forever EWF members, was taken last year when the band was on #Conan.
#badeya #earthwindandfire #saydoyouremember #21stnightofseptember.
#DoYouRemember
#1record